Are you experiencing campaigns or ad sets active for a few days and yet nothing is spent, not even a penny? As a business mainly relying on Meta platforms to drive traffic, the issue may cost you thousands of dollars each day as not running any ads really damage your bottom line.
All of a sudden since the last 2 days that ad is just not spending/delivering anymore. I have not changed anything, I don't understand why.
The adset in this "ghost" campaign (campaign/adset/ads) is saying delivering/active, & learning but not a penny has been spent. I've spent countless hours trying to fix this issue over the past few days but no luck.
I create new campaigns, & Adsets and they will run for a few days and yet nothing will be spent not even a penny. I have tried creating different campaigns, duplicating, tweaking the settings, turning off minimum adset spend limits, new creatives.
Aside from speculations over Facebook bugs or glitches, here are 4 main reasons you may have overlooked that contribute to the issue:
1. Limited by Audience Size
If you are running Remarketing campaigns to retarget a customer list or users who performed certain actions on your website, your audience may be just too small that Facebook doesn't know how to optimize and that's why you are not spending.
You can identify this by "Estimated audience size: Unavailable" in ad set level: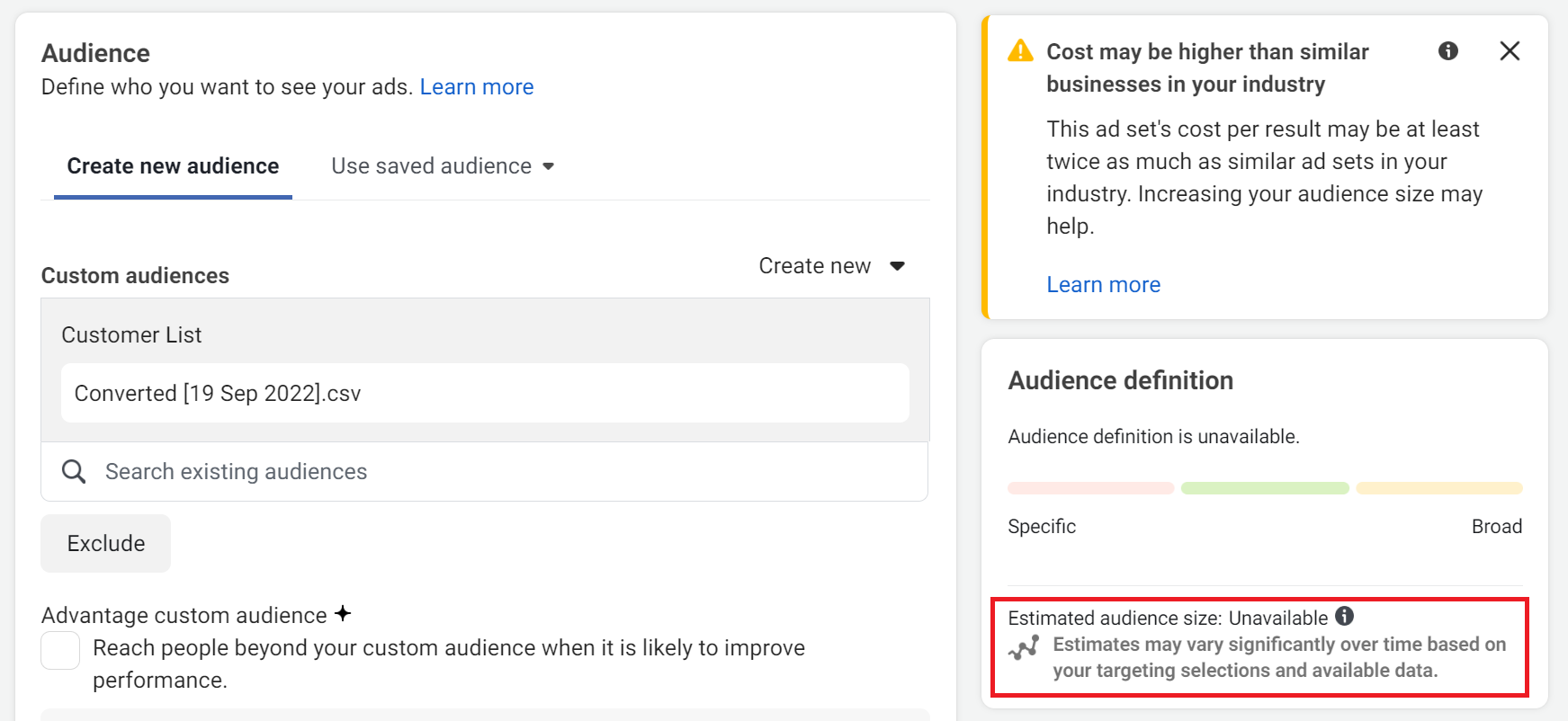 Facebook requires a minimum audience size of 100 to start delivering ads to your target audience to avoid hyper-targeting identifiable individuals. Consider combining multiple audience under the same ad set to fix the issue (it prevents audience fragmentation too!).
2. Limited by Bid Cap / Cost Per Result Goal (Cost Cap)
*Only for campaigns NOT running on Highest Volume (Lowest Cost) bid strategy
If you run a campaign using Lowest Cost bidding, however switching to Bid Cap / Cost Per Result Goal for better CPA, your campaign may be underspending or even not spending any $ after a few weeks.


Meta leverages on an ad auction to determine the best ad to show to a person at a given point in time. If there are advertisers who are bidding higher than you during a specific period of time, your campaign may stopped spending immediately.
Increasing daily budget won't get things moving again, but to either increase your Target CPA or switch back to Highest Volume, a.k.a. bid as high as possible to finish up your campaign daily budget.
3. Facebook Dynamic Daily Spending Limit (DDSL)
Back in 2021, Meta restricted the daily budget that you are able to spend on your ad account based on past advertising history to avoid unethical advertisers slipping through the net. The daily spending limit may apply to a single ad account, or across all ad accounts under the same Business Manager.
I have written a separate post on 3 different strategies to increase Facebook Daily Spend Limit restriction here.
4. Ad Flagged For Potential Policy Violation
As you have spent a certain amount of budget on specific ads, Facebook will perform another level of review to ensure your creatives or copies fully comply to its ad policies. If your ads are flagged during this review, they may not immediately show up as rejected, but simply stop spending gradually over 3-4 days before the "rejected" appears.
As long as your ad account is not disabled, you will just need to come up with less aggressive creatives or copies to work around. For ads remain stuck in review after 18-24 hours, I have written a separate post to address the issue.
If you believe that you have done everything right, but yet Facebook not spending or delivering as usual, duplicating your campaign or ad set with a slightly different setup (e.g. different targeting / different creative) may just resolve the issue.
You know, Facebook can be quite buggy sometimes.
Are you constantly getting ad rejections or facing ad account restrictions on Facebook Ads? You wish it's a mistake, but after appealing, what the reviewer team did was just keep asking you to take a look at Facebook's e-learning Blueprint module - But it doesn't change your fate!

After months of intensive researches, I managed to narrow down the key actions that pulls the trigger for ad rejection and account restriction. I'll be sharing my research in my first E-Book - The Ultimate Guide In Mastering Ad Policy