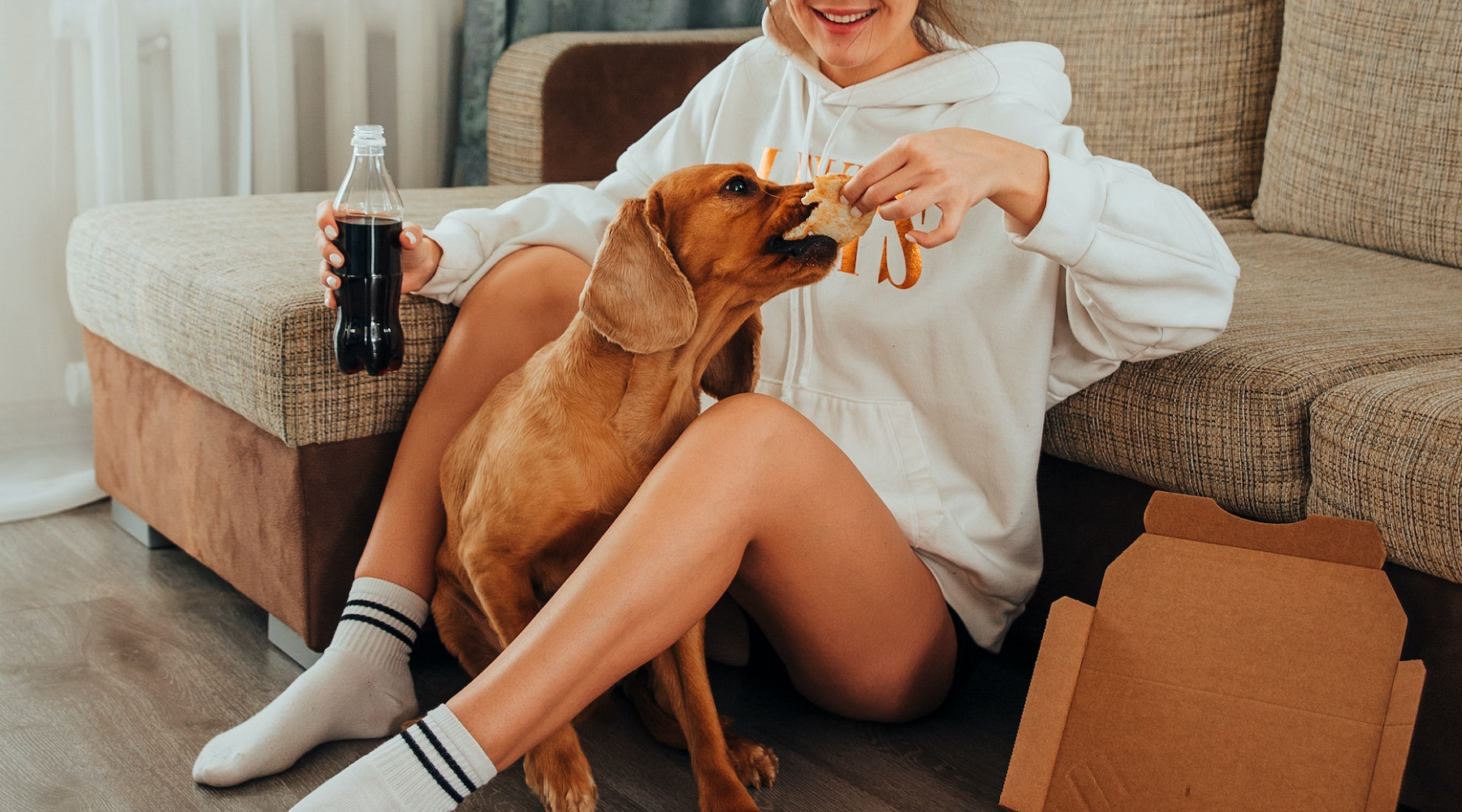 In the pet industry, reaching the right audience can be the difference between a thriving business and one that struggles to make sales. Specifically, for businesses catering to dog owners like pet shops and dog training centers - finding the right audience on Facebook has become a considerable challenge. Facebook's decision to remove interest and behavior targeting options such as "Dog Owners" and "Pet products > Dog products" has left many marketers scratching their heads. How can they target a demographic that's seemingly become elusive overnight?
This article will delve into this issue and offer potential solutions, ensuring your business can still reach its paws-perfect audience.
The Dog Owner Persona on Facebook
Dog owners are a unique breed. Unlike cats or other pet owners, they often demonstrate a higher level of engagement and a distinct persona.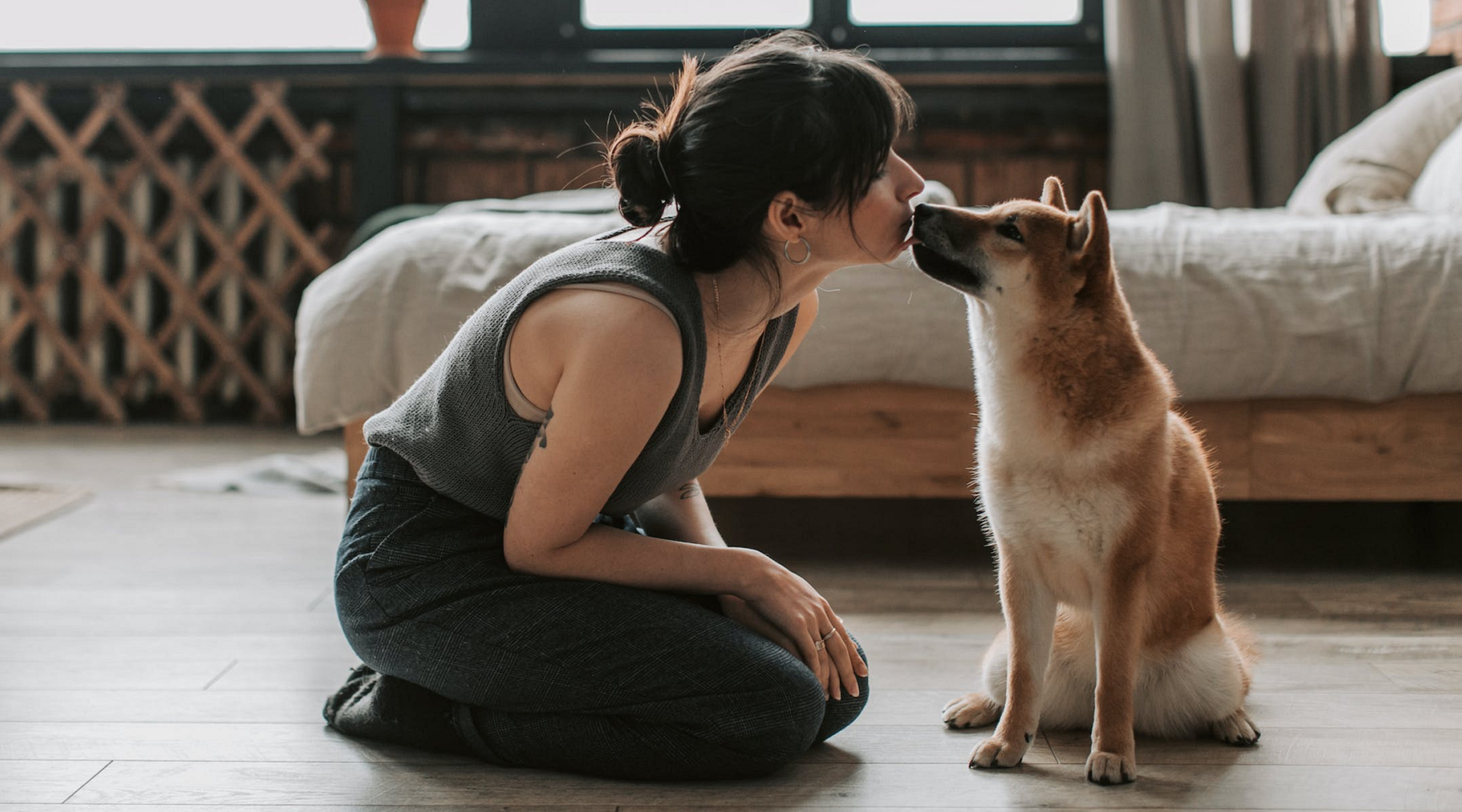 Dog owners frequently create separate Instagram profiles for their pets, curating content that showcases their beloved canine's life. This extends to Facebook, where dog owners often participate in breed-specific groups, engage with dog-related posts, and display distinct shopping behaviors.
How To Target Dog Owners On Facebook Ads
In the past, simple "Dog (animal)" interest targeting might have been sufficient. However, given Facebook's changes, it's now crucial to adopt a more nuanced approach. Now let's explore 5 different targeting strategies (with examples!):
1. Engaged Audience from Dog-Related Facebook Page
By creating a custom audience based on users who have interacted with your dog-related content, you can tap into a pool of individuals who have already expressed interest in your brand.
For example, say you run a dog food company and posted a video about your newest grain-free dog food. Users who liked, shared, or commented on this video could be grouped into a custom audience. As these users have shown interest in your grain-free dog food, they could be more likely to respond positively to your ads about similar products.
2. Interest-Based Targeting
With the removal of some direct targeting options, it's time to think creatively about other relevant interests that might indicate a user is a dog owner. Interests such as "Dog food", "Dog training", and "Dog collar" may be useful here. For instance, if you're a dog training service, you might target users who have shown interest in "Dog training". While this doesn't guarantee they're dog owners, the correlation is likely high, thus still reaching a relevant audience.
Brands: "Eukanuba", "Iams", "Nutro Products", "Pets at Home", "Raw feeding" and more
Categories: "Dog Food", "Dog behavior", "Dog grooming", "Dog health", "Dog training" and "Dog walking"
Types: "Bulldog", "Chihuahua", "German Shepherd", "Golden Retriever", "Pug" and etc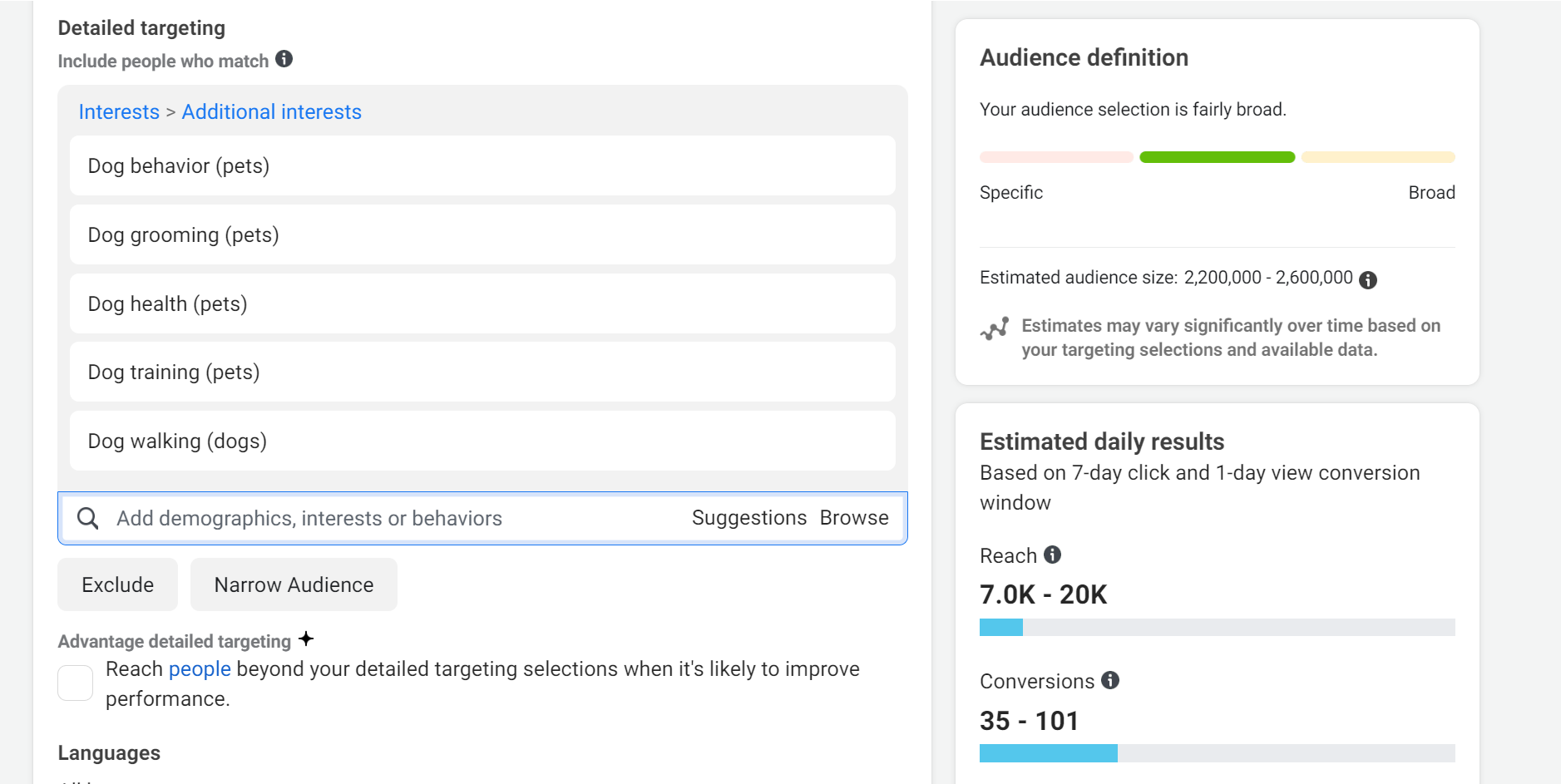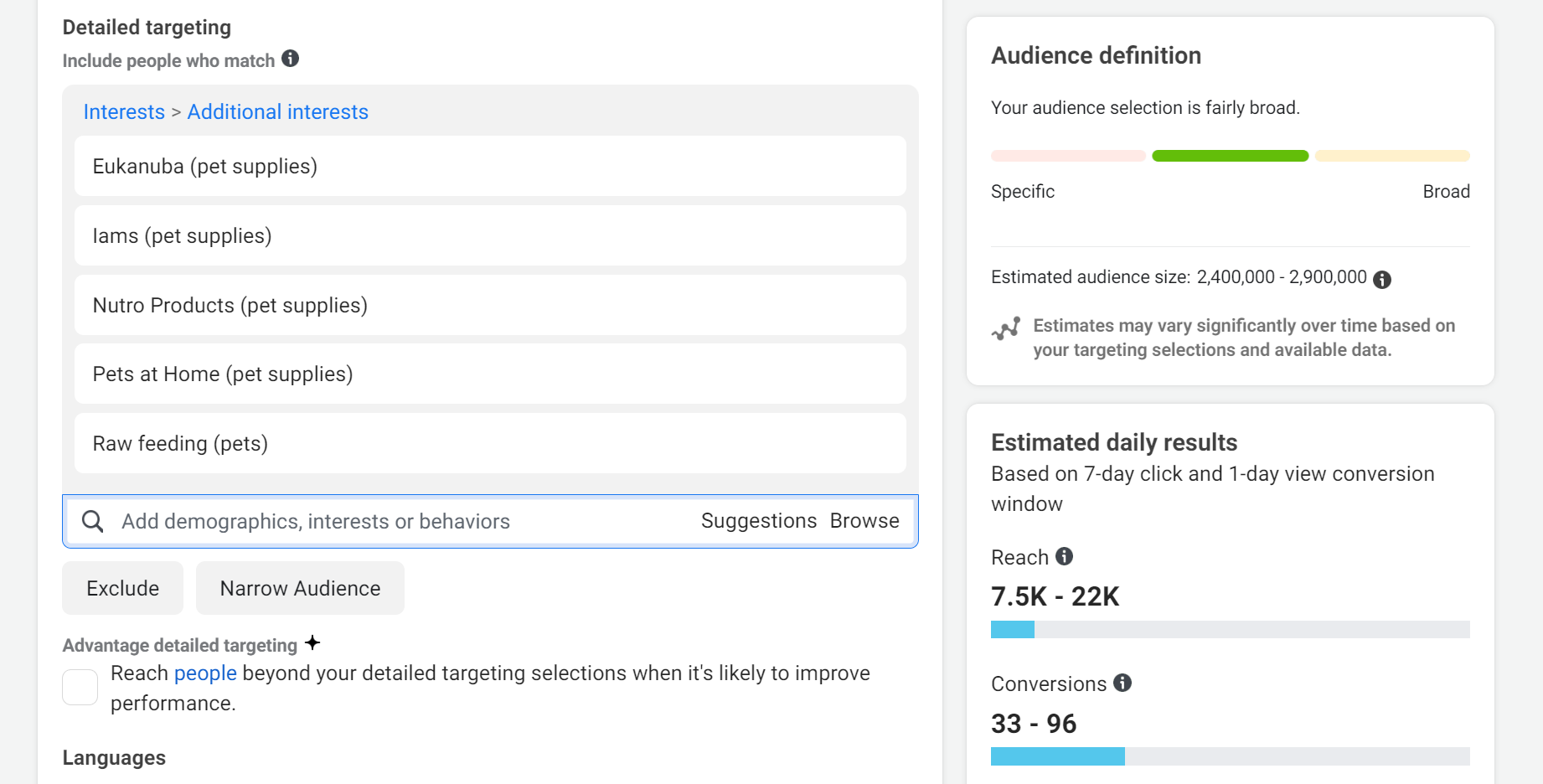 3. Behavior Targeting
While Facebook has removed some behaviors for targeting, others remain that could be helpful. "Engaged Shoppers", for example, are users who have clicked on the call-to-action button on a shopping-related Facebook ad in the past week. By targeting these users, you're reaching people who are not only active on Facebook but have also recently shown online shopping behavior. If you're an e-commerce shop promoting a dog accessories sale, this could be a valuable audience to target.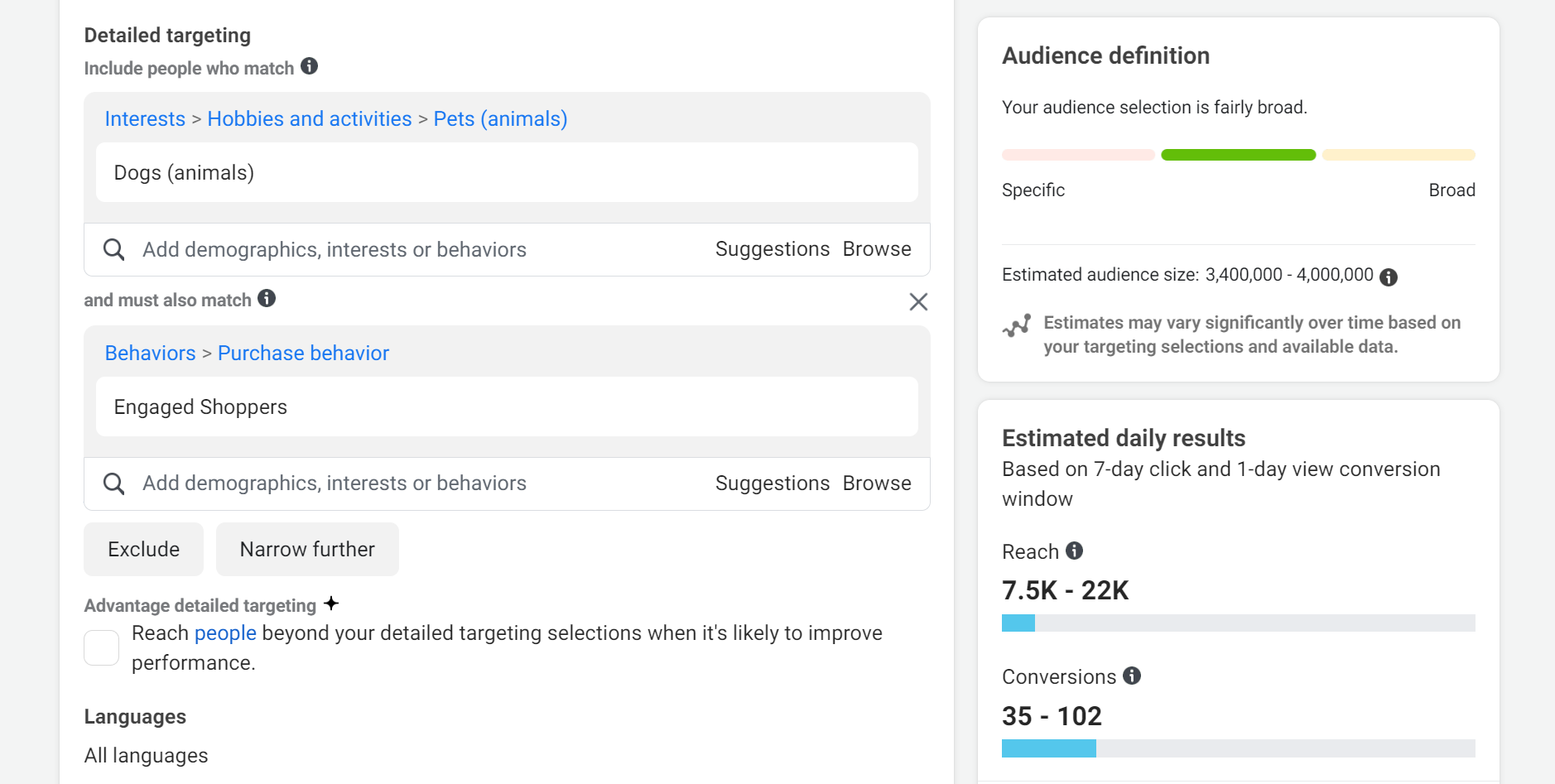 4. Facebook Groups Targeting
Many dog owners join Facebook groups related to their breed or general dog care. By identifying these groups, you can target your ads to reach these highly relevant Facebook group members. For example, if you're a vet clinic offering a new puppy health check, you might target your ads to members of local puppy-related Facebook groups. The users in these groups are likely new puppy owners who might need your services.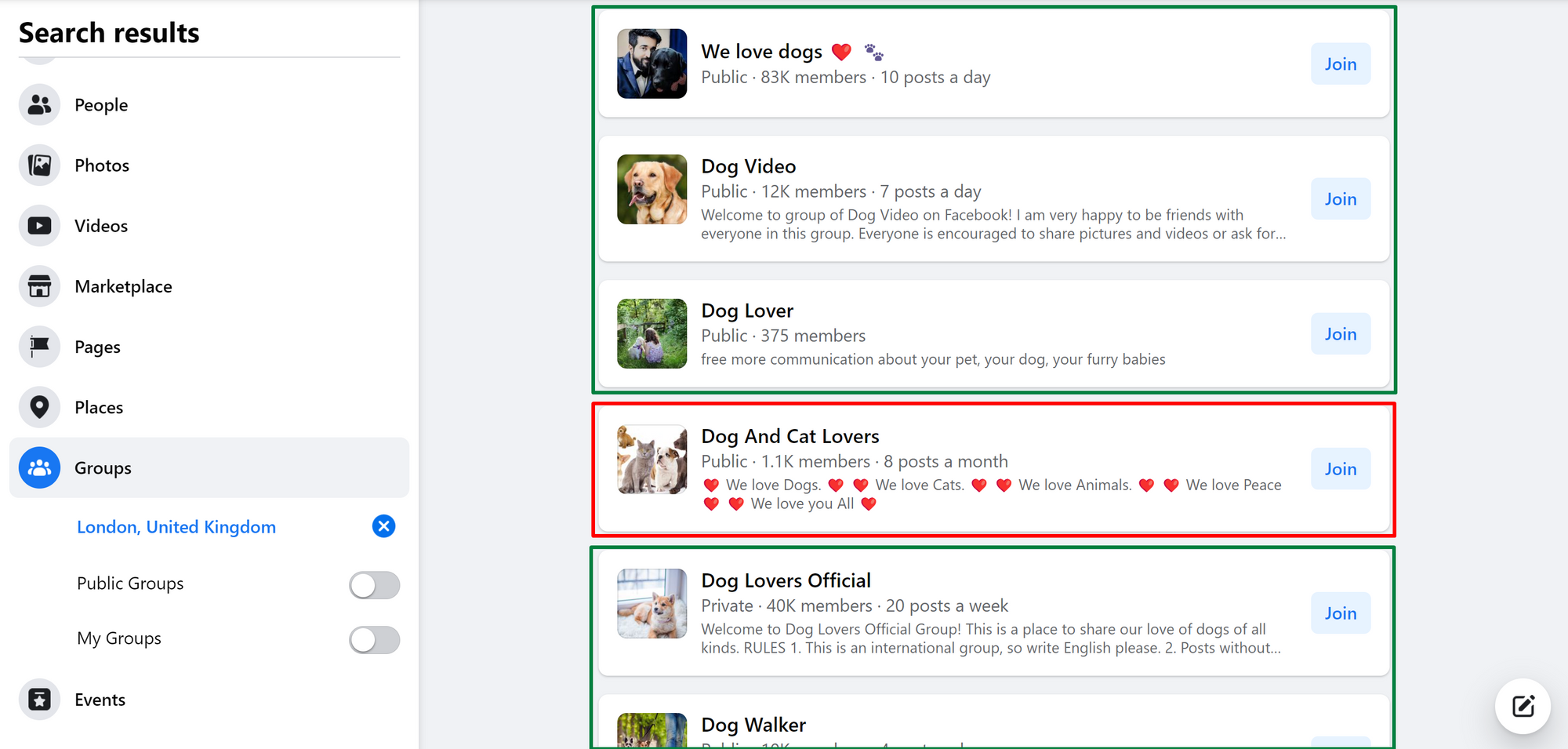 5. Utilizing Facebook Pixel & Retargeting
Facebook Pixel allows you to track user's actions on your website and use this data to create a lookalike audience. This can be incredibly valuable for reaching new potential customers who behave similarly to your current customers. For instance, if you run an e-commerce pet store, you could create a lookalike audience based on users who have added a dog-related product to their cart or made a purchase. This lookalike audience will then target users who share similar behaviors and characteristics, increasing the likelihood that they're also dog owners.
On the other hand, not forgetting to remarket to reach users who have already expressed high intent on your dog products. By targeting users who have clicked on your CTA and visited your landing page, you're reaching people who have shown a clear interest in your product or service. For instance, if you're a dog insurance provider and a user has clicked on your ad to get a quote but didn't complete the process, retargeting them could give them the nudge they need to convert.
The Undiscovered Effective Dog Owners Targeting Combinations on Facebook Ads
While Facebook's vast user base offers a significant opportunity for businesses to connect with potential customers, here are 3 potential combinations that could help you effectively connect with the dog-loving audience on Facebook:
1. Interest + Behavior
This combination leverages interest-based targeting, such as "Dog food", "Dog training", or "Dog collar", with behavioral targeting like "Engaged Shoppers". By combining these two targeting methods, you can create a hyper-focused audience that not only shows interest in dog-related topics but also has a history of shopping-related behaviors.
2. Custom Audience + Retargeting
If you've built a custom audience from users engaging with your dog-related Facebook page, you can double down by also retargeting users who have clicked on your CTA and visited your landing page. This combination allows you to stay top of mind with individuals who have shown interest in your brand and are likely closer to making a purchase.
3. Facebook Groups + Lookalike Audience
Start by targeting users in dog-related Facebook groups. Then, create a lookalike audience from Facebook Pixel events (like add-to-cart or purchase actions) on your website. This combination allows you to reach users who are not only likely dog owners but also share similar behaviors with your existing customers.
Future-Proofing Your Facebook Ad Strategy
Facebook's ongoing removal of detailed targeting options highlights the importance of building your own audience. This could be through growing your Facebook or Instagram page or collecting email addresses. With your own audience, you reduce your reliance on Facebook's targeting options, ensuring your ad strategy remains robust despite any future changes.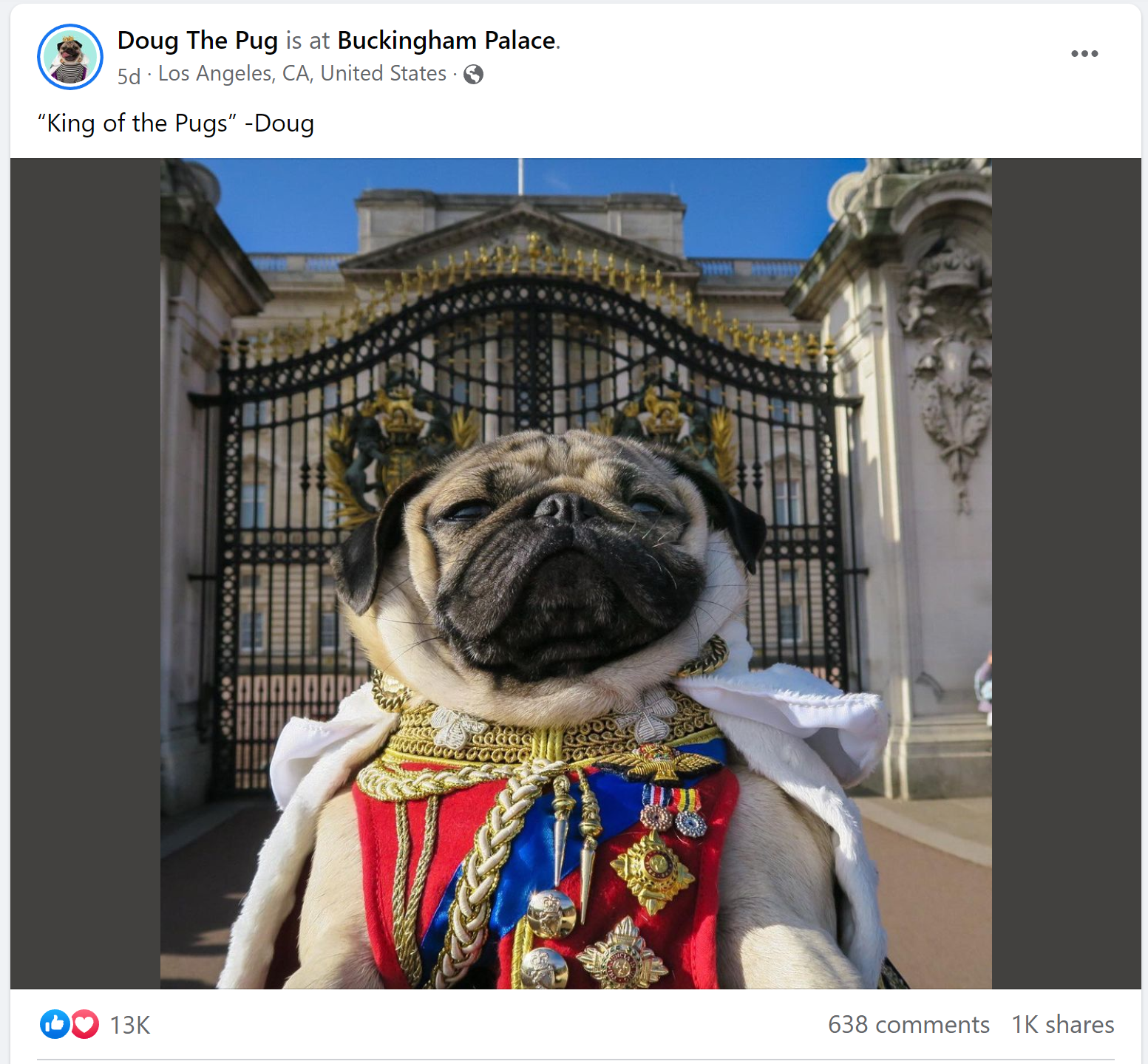 The key to a successful Facebook ad campaign targeting dog owners lies in understanding their unique behaviors and interests. Then, use this understanding to craft a multi-faceted ad strategy that leverages the full potential of Facebook's targeting options.
While the removal of specific targeting options has posed challenges in targeting dog owners, it also presents an opportunity to explore new targeting combinations. by deepening your understanding of your audience, refining your Facebook ad strategy, and ultimately achieving better ROAS. In doing so, you'll not only navigate the current landscape but also future-proof your strategy against further changes.
Are you constantly feeling that Facebook Ads is not working anymore? Despite all your efforts and strategies, with each algorithm change, it feels like you're back at square one. The ROI isn't what it used to be, and you're left wondering if Facebook Ads has lost its magic.

After diving deep into the intricacies of audience targeting and the ever-evolving Facebook landscape, I've uncovered strategies that remain effective despite the platform's constant changes. Discover these insights in my latest E-Book - The Ultimate Guide In Mastering Audience Targeting.