"We noticed some unusual activity, so we've disabled your ad account."
Ad account getting disabled has become the 'new norm' in the world of Facebook Ads. Before putting the blame on Facebook, it has been fighting scammers who ran away with unpaid balance or hacker who use other's ad account to make massive campaign. Facebook also tries to protect your account from being unauthorized use for illegal practice.
If you receive this notification on your Facebook Ad Account, just take a step back and chill. You didn't violate any Facebook Advertising Policies, but more likely to be related to your payment method, especially when you're using a new Credit Card / Debit Card to pay for your Facebook Ads.
Take a look at the 3 scenarios below:
Facebook detects a mismatch between your profile identity and your credit / debit card name (e.g. You use your parent's credit card instead of yours)
Your Facebook App / browser location isn't same as your credit / debit card location (e.g. You use a credit card from Country X while residing in Country Y)
You publish ads from a new location (e.g. You accidentally turned on VPN that changed your IP address location)
DO NOT rush to create a second ad account, as it has a 99.97% chance of getting disabled the moment you publish your ad.
Here's how you can fix it:
Go to Disabled Consumer Payments Support, and fill in the form below: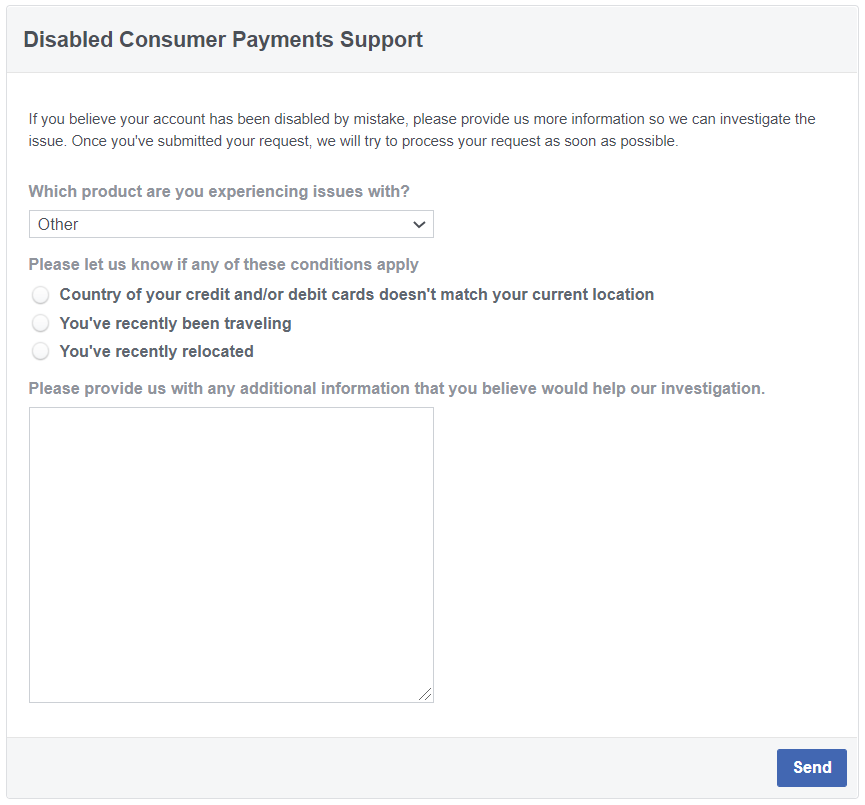 Once you submitted the appeal form, just wait patiently for Facebook's Fraud team to review the information. It should take less than 48 hours to get your ad account back.
Are you constantly getting ad rejections or facing ad account restrictions on Facebook Ads? You wish it's a mistake, but after appealing, what the reviewer team did was just keep asking you to take a look at Facebook's e-learning Blueprint module - But it doesn't change your fate!

After months of intensive researches, I managed to narrow down the key actions that pulls the trigger for ad rejection and account restriction. I'll be sharing my research in my first E-Book - The Ultimate Guide In Mastering Ad Policy