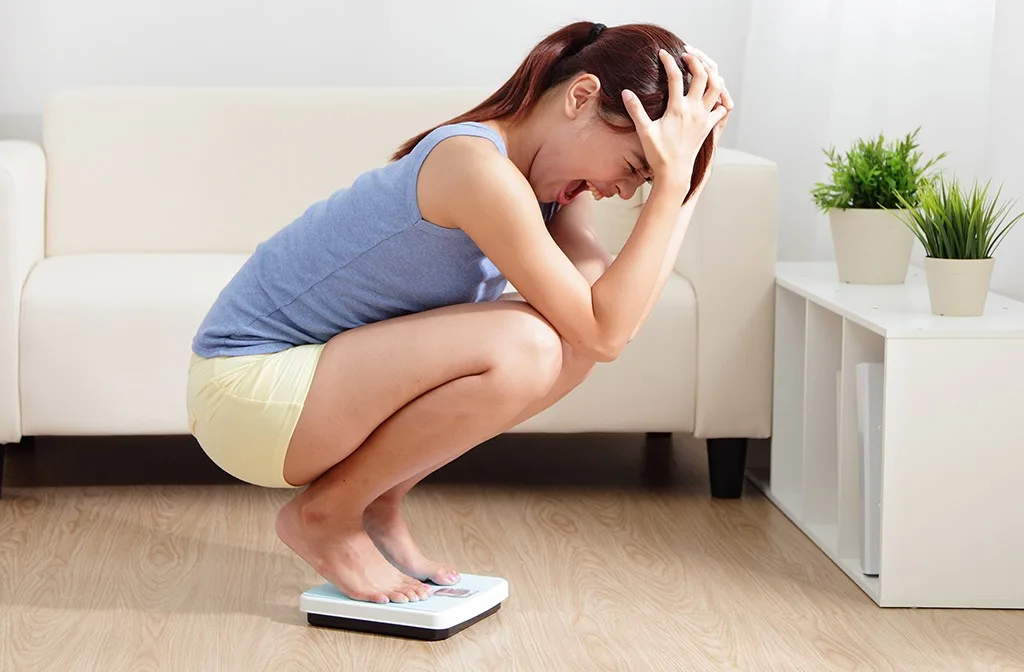 As our modern society heightened focus on health and wellness, there had been increased number of Facebook advertisers going into this space. When it starts to gets crowded, Facebook tightens up it's advertising policies on Personal Health, as they don't want users to associate negative feelings or emotions with their platform.
All ads we submit get approved, but all of them get rejected the next day for Personal Health.
They also claim I'm showing before and after pics as well as making false claims but I definitely am not!
If I can't promote my customer's before & after pics, then the main selling point can't be shown/expressed.
Facebook Ads Health Policy is much wider than before-and-after pictures, even the slight mention of unrealistic transformation can trigger the violation. There are also restrictions on the type of images/videos you can use, e.g. injection, surgery, waist ruler or weight scale.
P/S: Yup, the first image you see earlier is a definitely No-No.
Here's what you're NOT allowed to do according to Facebook's Personal Health policy:
Ads must not contain "before-and-after" images or images that contain unexpected or unlikely results. Ad content must not imply or attempt to generate negative self-perception in order to promote diet, weight loss or other health-related products.
There is nothing wrong with promoting health products on Facebook, but the way you choose to advertise. Personal Health is a very particular ad category and it takes a lot of trial and error to get things right.
Here are 3 methods that I recommend to get through the Facebook Ads Health Policy without :
1. Focus On Curiosity
One of the most common mistakes is making false claim, or promising 'miracle cure'. There are a number of fitness companies' marketing strategies have centered around customer's Before-and-After results, and tend to use them as testimony to attract new customers.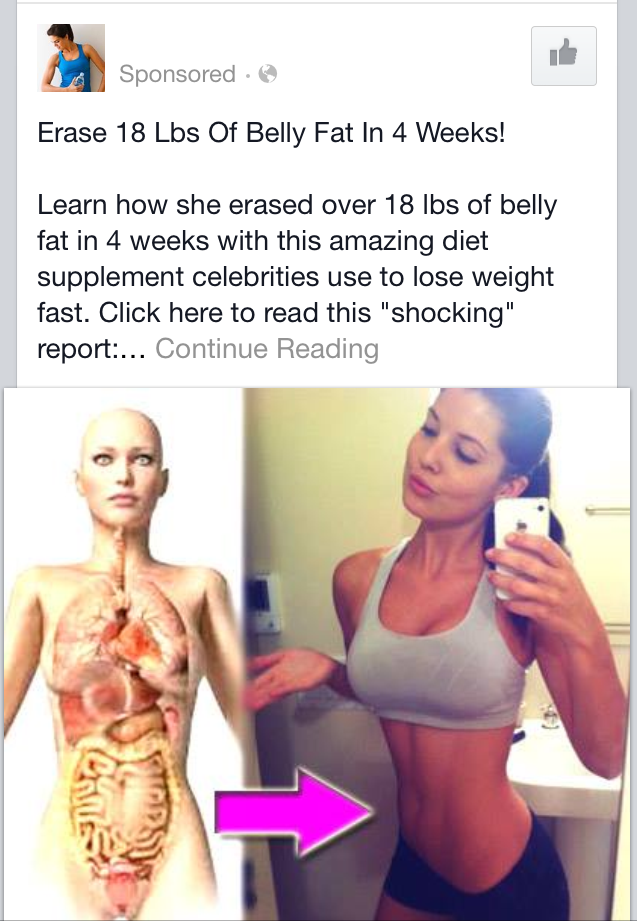 You may think "Erase 16 Lbs Of Belly Fat In 4 Weeks" is normal, but what if the person fails to lose 16 lbs? So that's a misleading claim (in the eyes of Facebook Ads reviewers).
You have to figure out a way to word it differently.
If you're not allowed to mention the results directly, how about a 3rd person storytelling approach - focusing on the journey and emotional aspect without promising any results? Take a look at the example by JumpstartMD below: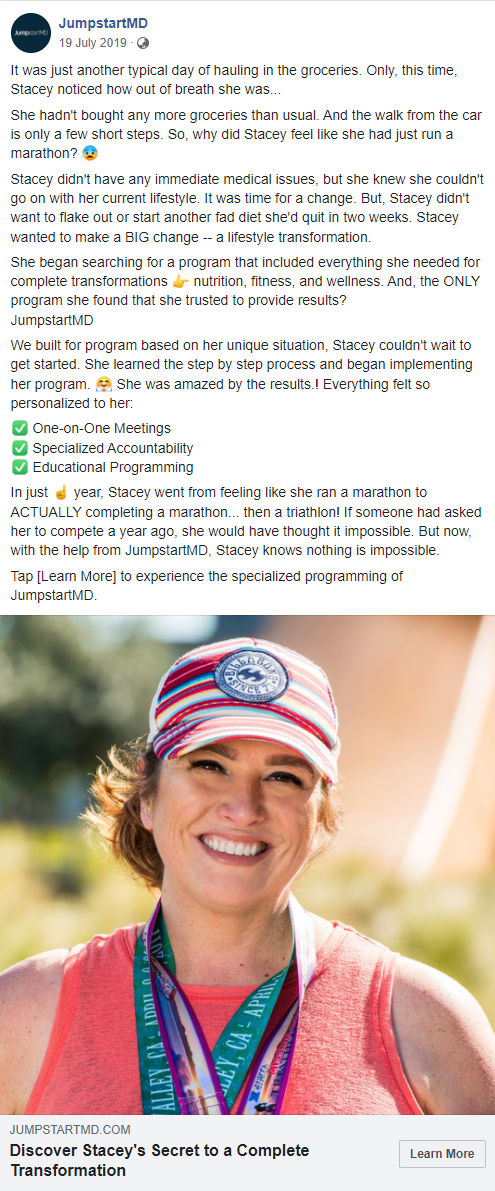 Not only that this ad is compliant (no mention of weight loss), but it also stirs up audience's curiosity to know more about how she manages to do it (lose weight).
2. Avoid Questioning Pain Points
The most effective way to sell a health product is to highlight specific pain points, and how your product can solve the specific pain points.
However, most health ads got rejected because of asking questions that may or may not imply your audience is heavy, needs weight loss, is fat, etc - a similar logic on how your ad rejected because of Personal Attributes.
Struggling to lose fat?
Is plantar fasciitis making you unable to walk properly?
Are you having headache that awakens you from sleep?
Here's an example of Protalus ad that doesn't question the audience, but rather giving a broad idea on the issues that the product can solve (with clear money-back guarantee).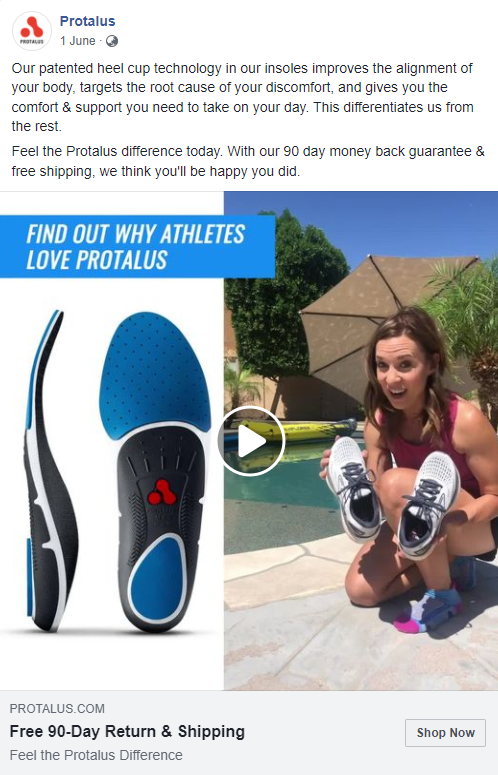 Note that the ad above doesn't specify the type of foot pain, but talks about generic foot discomfort without showing any animated skeletal system, blood flows or glowing green flashes.
3. User Generated Content (UGC)
You might ask, why can't I just show my customer testimony on my Facebook Ads?
Well of course you can, but again you should do it without
Side-by-side Before-and-After image/video
No weight scale or waist ruler (for weight loss)
Asking personal question directed to your audience
Here's an example of Testimony style ad by Slabway: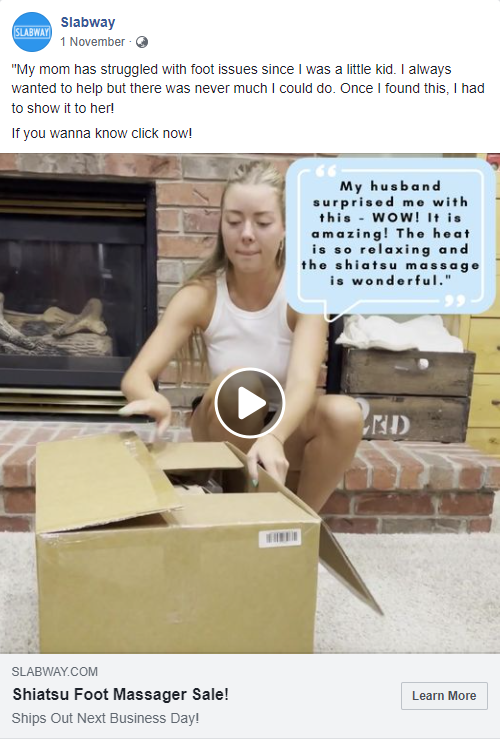 The ad features a First Person narrative, elaborating on the customer's experience and response during an unboxing event.
Not only it engages the audience with excitement, but also attracts the audience to click on the ad to see what the products does for the customer too!
Facebook will never stop rejecting your ad, and even ban your ad account if you keep repeating the same violation over and over again.
Sometimes all you need is just taking an extra mile to understand the Facebook Ad Health Policy, and then figure out alternatives to get your ads approved.
If the above insights help you in crafting better health ads, do subscribe to my email list. I'll be sharing more tips and tricks on getting through Facebook Ad Policies, compliantly.
Are you constantly getting ad rejections or facing ad account restrictions on Facebook Ads? You wish it's a mistake, but after appealing, what the reviewer team did was just keep asking you to take a look at Facebook's e-learning Blueprint module - But it doesn't change your fate!

After months of intensive researches, I managed to narrow down the key actions that pulls the trigger for ad rejection and account restriction. I'll be sharing my research in my first E-Book - The Ultimate Guide In Mastering Ad Policy