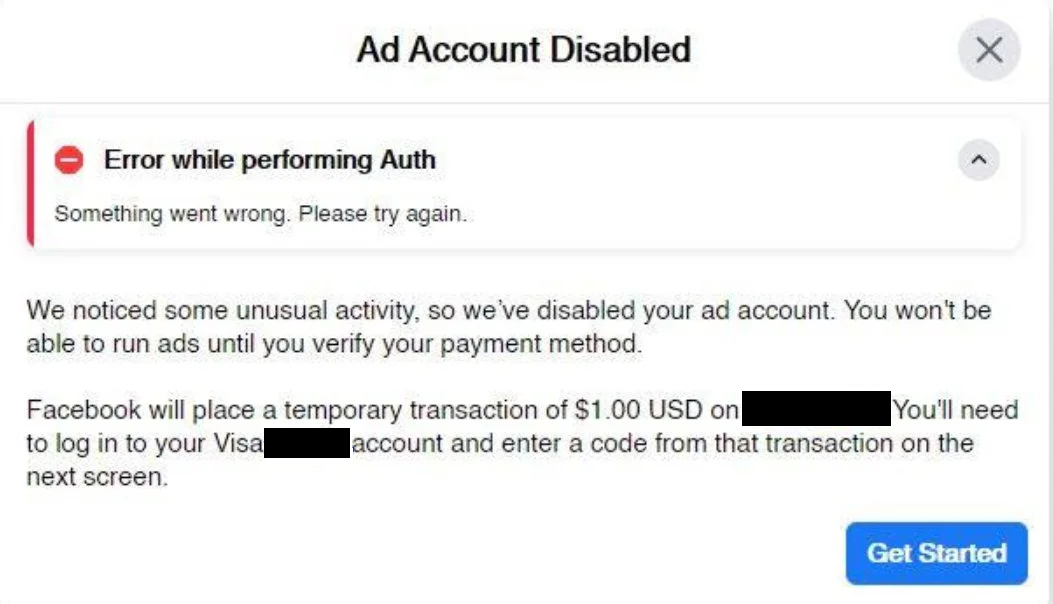 "Error While Performing Auth" pops up when Facebook is unable to directly place a temporary hold on your debit or credit card due to your local bank blocking the 'foreign' transaction for safety measurement, especially when this is your first payment attempt to Facebook.
I've been having this issue for like 4 hours now and i cant confirm my payment method...
If your local bank restricts foreign transaction, Facebook will not be able to charge your card. Follow the 2-step process below to complete your card authorization for Facebook Ads Payment:
Step 1: Authorize Facebook Payment From Local Bank
Call your local bank hotline, and speak to a customer service representative. Based on the declined transaction, the representative should be able to identify the merchant as Facebook Inc or Meta Platforms Inc. Inform the representative that you are running Facebook Ads, and ask to authorize any future transaction from Facebook.
*If you plan to run Facebook Ads for only a limited period of time i.e. 3 months, some local banks have the option to open up the transaction for only that period, then decline any transaction afterwards.
Step 2: Contact Facebook Business Support
Upon contacting Facebook Business Support, the representative will ask you to provide the following information to verify your card ownership:
To be able to advertise on Facebook, please verify your payment method by finding the 4 or 5-digit code on your credit card statement and enter this code on your Facebook advertisement page. On your credit card statements, reference numbers usually appear next to a label like "FACEBK*" or "FACEBOOK.COM*".
Do not panic if you do not see any of above entries on your credit card statement. Depending on your bank system, it may not generate the transaction record until 12:00am the next day.
Stay calm and wait until the clock ticks past 12:00am in your local time before login into your bank / visa platform to check on your credit card statement. Once you found the said 4 or 5-digit code, reply to the Facebook Business Support for validation.
The error will be cleared shortly, and Facebook will proceed to auto debit or charge your credit card directly for future Facebook Ads billing.
Are you constantly getting ad rejections or facing ad account restrictions on Facebook Ads? You wish it's a mistake, but after appealing, what the reviewer team did was just keep asking you to take a look at Facebook's e-learning Blueprint module - But it doesn't change your fate!

After months of intensive researches, I managed to narrow down the key actions that pulls the trigger for ad rejection and account restriction. I'll be sharing my research in my first E-Book - The Ultimate Guide In Mastering Ad Policy