Customer loyalty and satisfaction are indeed the cornerstones of any thriving business. Picture it like this, if your customers are happy, your business is in for a win.
One surefire way to show off just how happy your customers are is through testimonials. They're like mini love letters from your customers, all neatly packaged in one place, telling the world about their fantastic experience with your product or service.
But let's be honest, managing customer testimonials can feel like herding cats. For businesses and creators, it's like walking a tightrope.
You've got customers who may not know where or how to leave a review or might balk at the idea of recording a video testimonial.
You're juggling reviews from every corner of the internet - Google, Facebook, Shopify, Yelp, you name it, and it's enough to give anyone a headache.
If you break into a cold sweat at the mention of HTML, embedding these testimonials on your website might seem about as achievable as climbing Mount Everest.
But hang in there, because that's where Testimonial.to swoop into the rescue.
What is Testimonial.to?
Testimonial.to is a tool designed to streamline the process of collecting, managing, and displaying customer testimonials, turning a herculean task into a breeze. It's an ideal solution for anyone who wishes to boost their brand reputation and establish trust with potential customers by showcasing real-life customer feedback.
Whether you're a small business owner, a course creator, a coach, or an artist, Testimonial.to can be a valuable ally.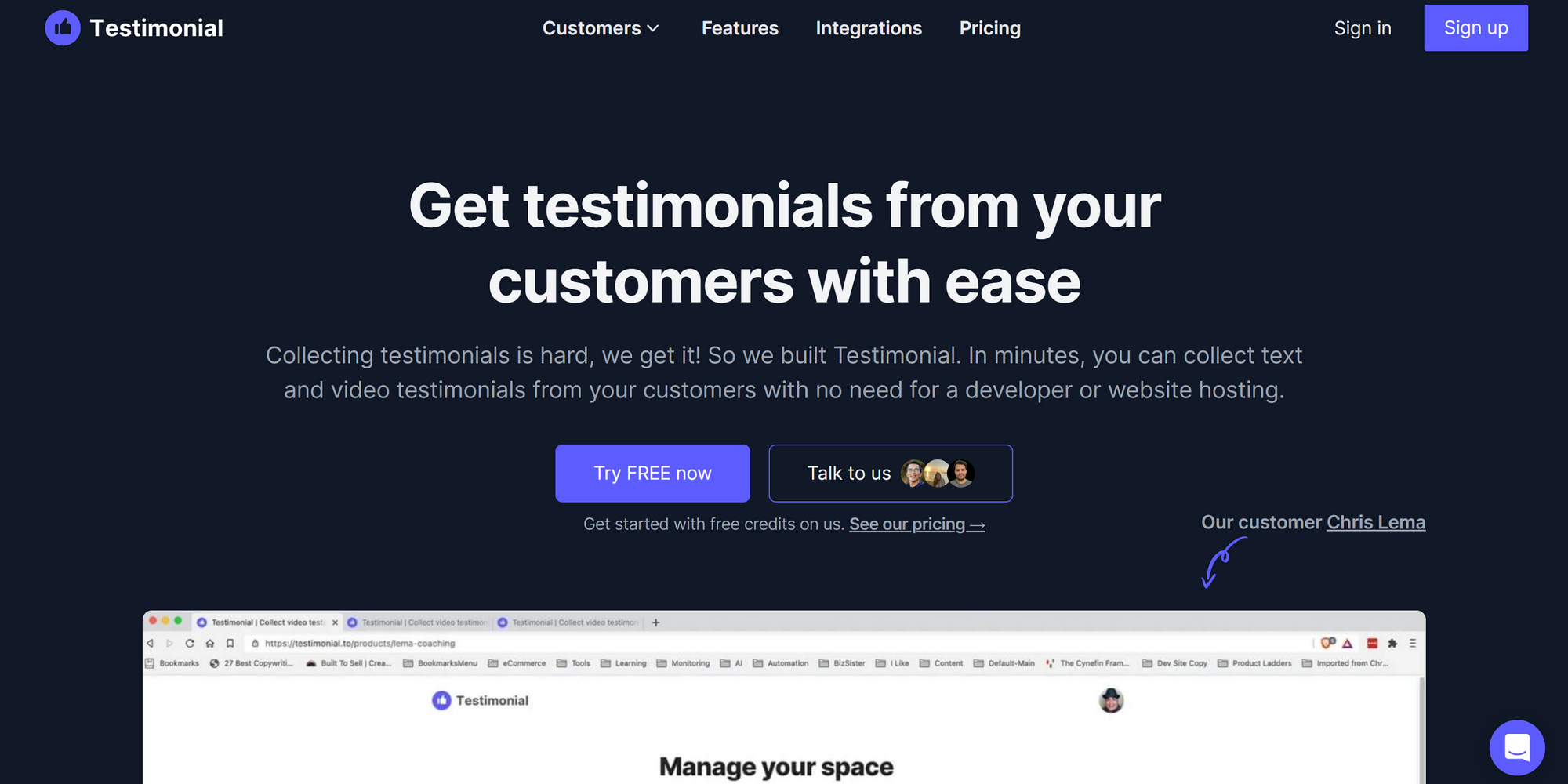 The genius behind this innovative tool is a man named Damon. He understood the struggles faced by businesses trying to gather and manage testimonials, and he decided to do something about it. So, he rolled up his sleeves and created Testimonial.to, a tool designed to make the whole process a walk in the park.
Check out his Twitter profile below:
Add tags to your Wall of Love, and make your testimonials organized 💜 pic.twitter.com/3vgvpWlvLa

— Damon Chen (@damengchen) May 12, 2023
How Can Testimonial.to Help?
Now you're probably thinking:
"This all sounds fantastic, but how exactly does Testimonial.to work?"
Well, let's dive deeper into how Testimonial.to takes all your headache out of these processes and turns them into a straightforward, enjoyable experience:
1. Simplify Your Testimonial Collection
You might think collecting testimonials sounds easy enough - just ask your customers to leave a review, right? If only it was that simple. Often, customers can feel a bit lost about where and how to leave their feedback. Even the most satisfied customers may give up if the process is too complex or time-consuming.
Testimonial.to steps in here to uncomplicate this process. It provides a unified platform where customers can leave their testimonials without needing to navigate through multiple sites or platforms.
All they need to do is click a link, type in their thoughts, or record a video right on the spot – no need to sign up, no app to install, just plain and straightforward. It's a cinch even for the least tech-savvy customers. The simplicity of the process encourages more customers to leave testimonials, increasing your collection without the usual hassle.
Here's a preview of my testimonial request link:
<script type="text/javascript" src="https://testimonial.to/js/iframeResizer.min.js"></script>
<iframe id="testimonialto-c-tripleblossom-dark" src="https://embed-v2.testimonial.to/c/tripleblossom?theme=dark" allow="camera;microphone" frameborder="0" scrolling="no" width="100%"></iframe>
<script type="text/javascript">iFrameResize({log: false, checkOrigin: false}, "#testimonialto-c-tripleblossom-dark");</script>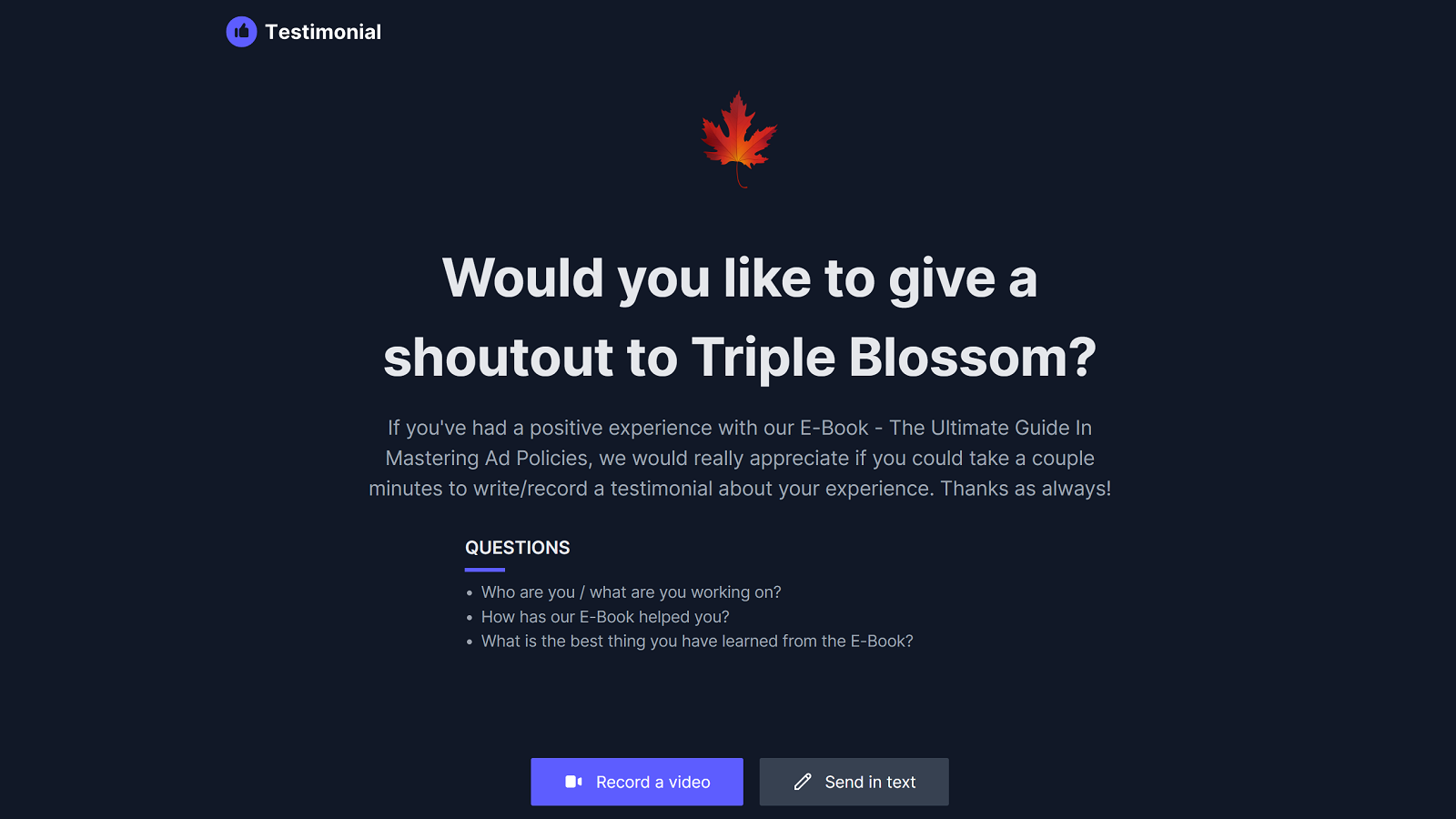 2. Integration With Other Platforms
Ever wished you could automatically fetch all your customer testimonials from different platforms and collect them in one place? Your wish just came true with Testimonial.to's extensive integration capabilities.
It's not just about reviews you collect directly from your customers; this tool connects with popular platforms like Facebook, Google, Shopify, Tiktok, Kajabi, and more, allowing you to pull in reviews automatically.
*You can even turn WhatsApp Messages into testimonials!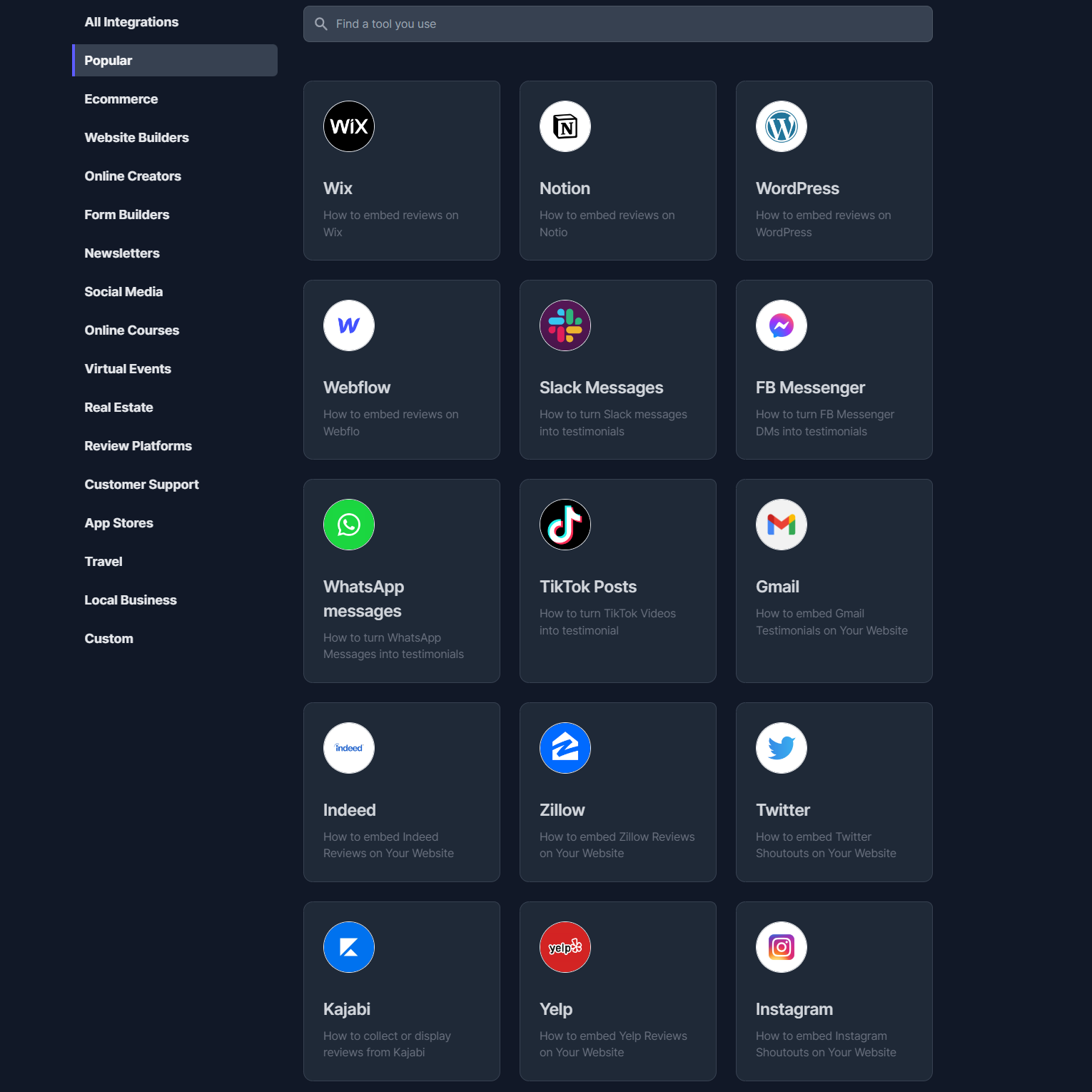 Seamlessly integrate these testimonials into your Testimonial.to collection!
Whether you have a small e-commerce store with reviews scattered on Shopify and Etsy or run a service-based business with testimonials on Google and Yelp, Testimonial.to gathers them all in one place. It's like having a personal assistant dedicated to curating and managing your customer testimonials.
Check out the full list of integrations here.
3. All Customer Reviews in One Place
Testimonial.to does more than just collect your customer testimonials. It also serves as a central hub where all your customer reviews come together from every corner of the internet. With its wide range of integrations, you can pull in reviews from Facebook, Twitter, Reddit, LinkedIn, and all integrable platforms, providing a panoramic view of your customer feedback.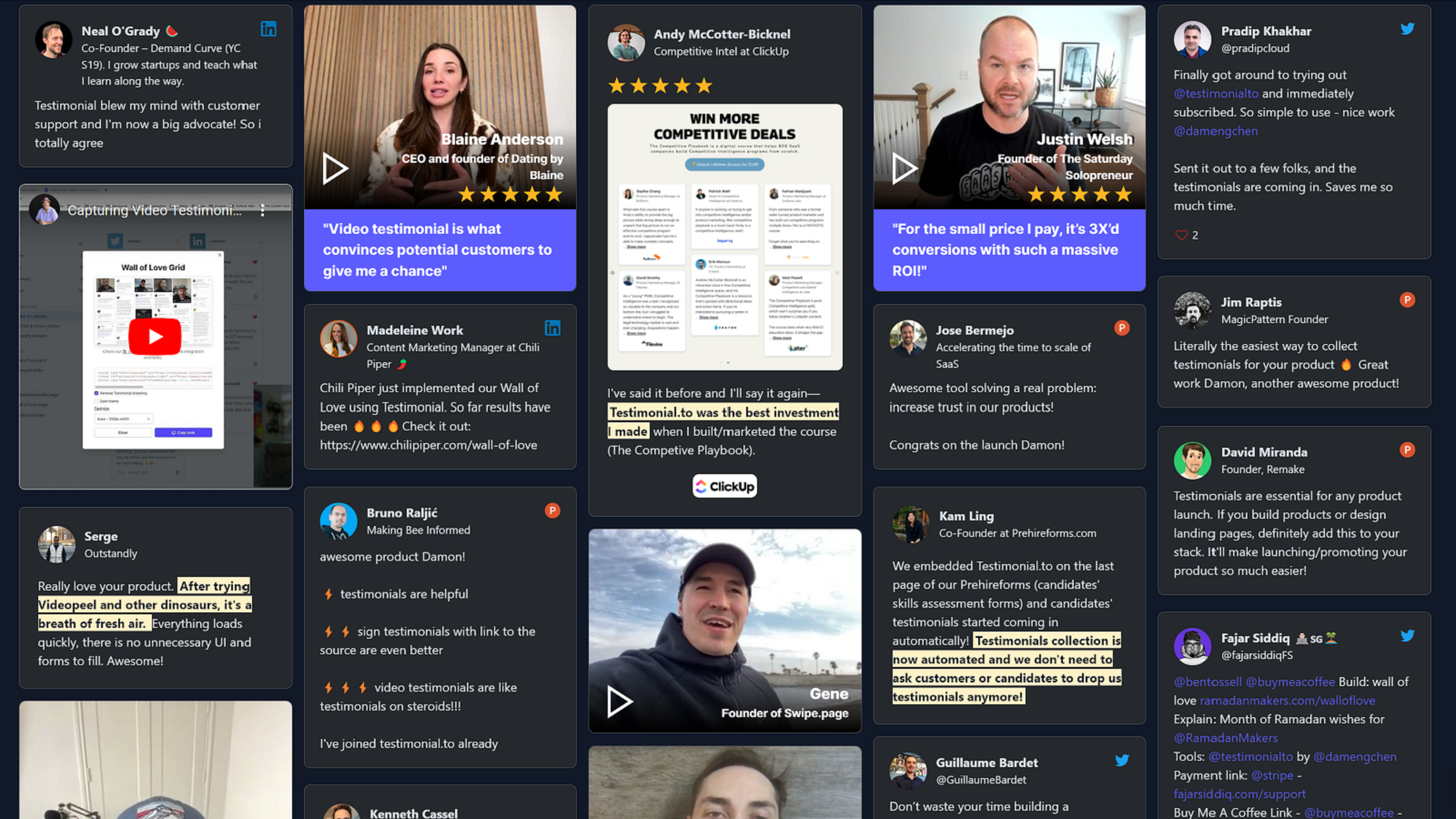 But it doesn't stop there. Testimonial.to also lets you showcase these testimonials to the world with their "Embeddable Wall of Love". You can create a custom testimonial page with your brand's color scheme, embed it right on your website, or link it to your emails or social media posts. Displaying all your positive reviews in one place strengthens your brand's credibility, acting as a powerful form of social proof to convert potential customers.
Check out the Live version here.
4. Testimonial.to for the Tech-Challenged
Not everyone is comfortable tinkering with website codes, and that's okay. Testimonial.to is designed with this in mind. You don't need to be tech-savvy to embed your Wall of Love on your website. Testimonial.to makes this process straightforward and hassle-free.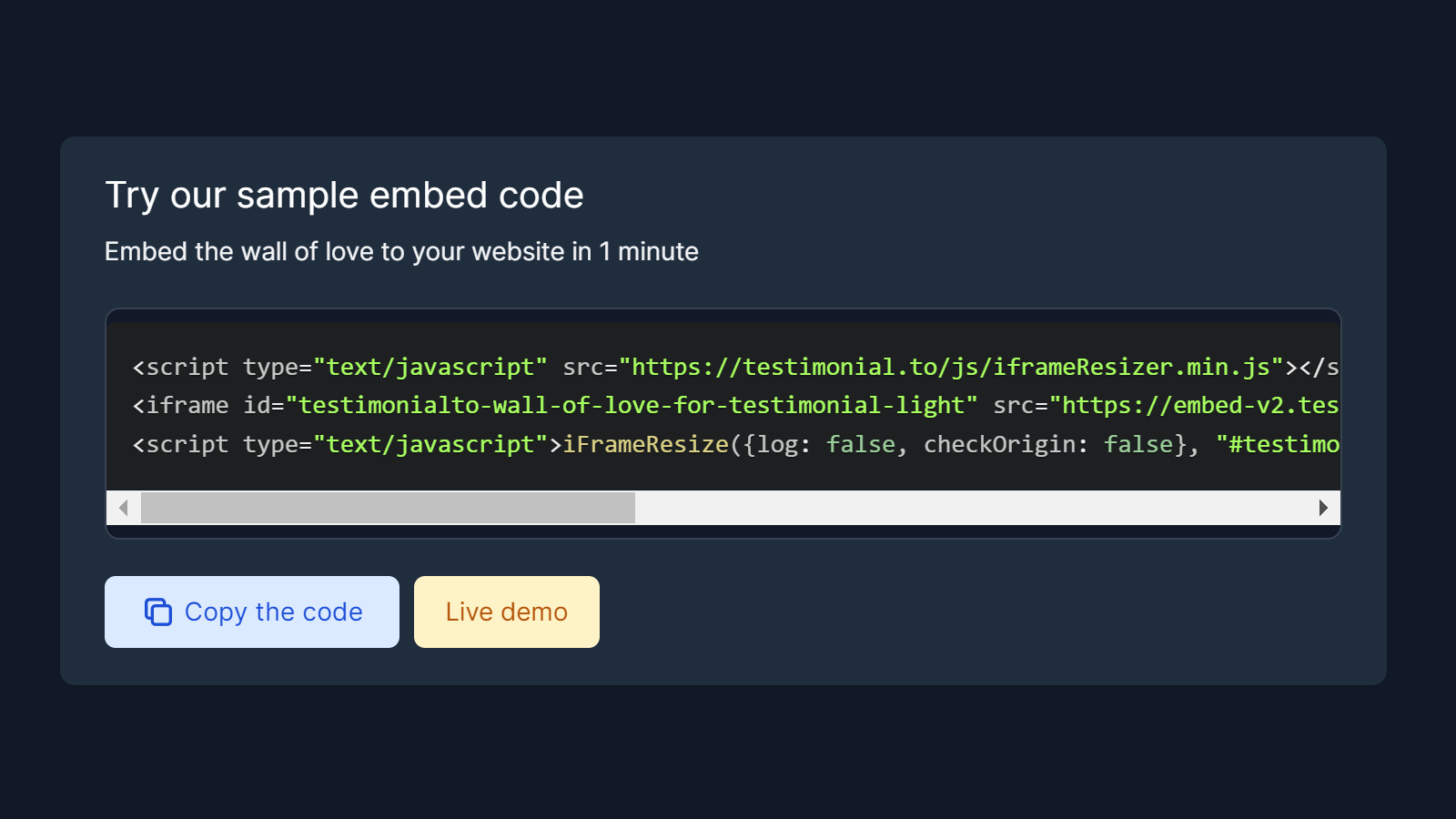 All you need to do is copy the embed code provided and paste it on your website where you want your testimonials to show up. No coding expertise required.
And if you do get stuck somewhere, Testimonial.to's support is just an email away, ready to help you display your customer testimonials in the best light possible. So you can focus on what matters the most – running your business and keeping your customers happy.
5. Chrome Extension
Testimonial.to takes convenience to the next level with their recently launched Chrome Extension. This nifty tool allows you to collect and manage your testimonials directly from your browser. Found an impressive customer review while browsing the web? You can add it to your Testimonial.to collection in just one click, no need to switch between apps or copy-paste. It's an instant testimonial collection right at your fingertips.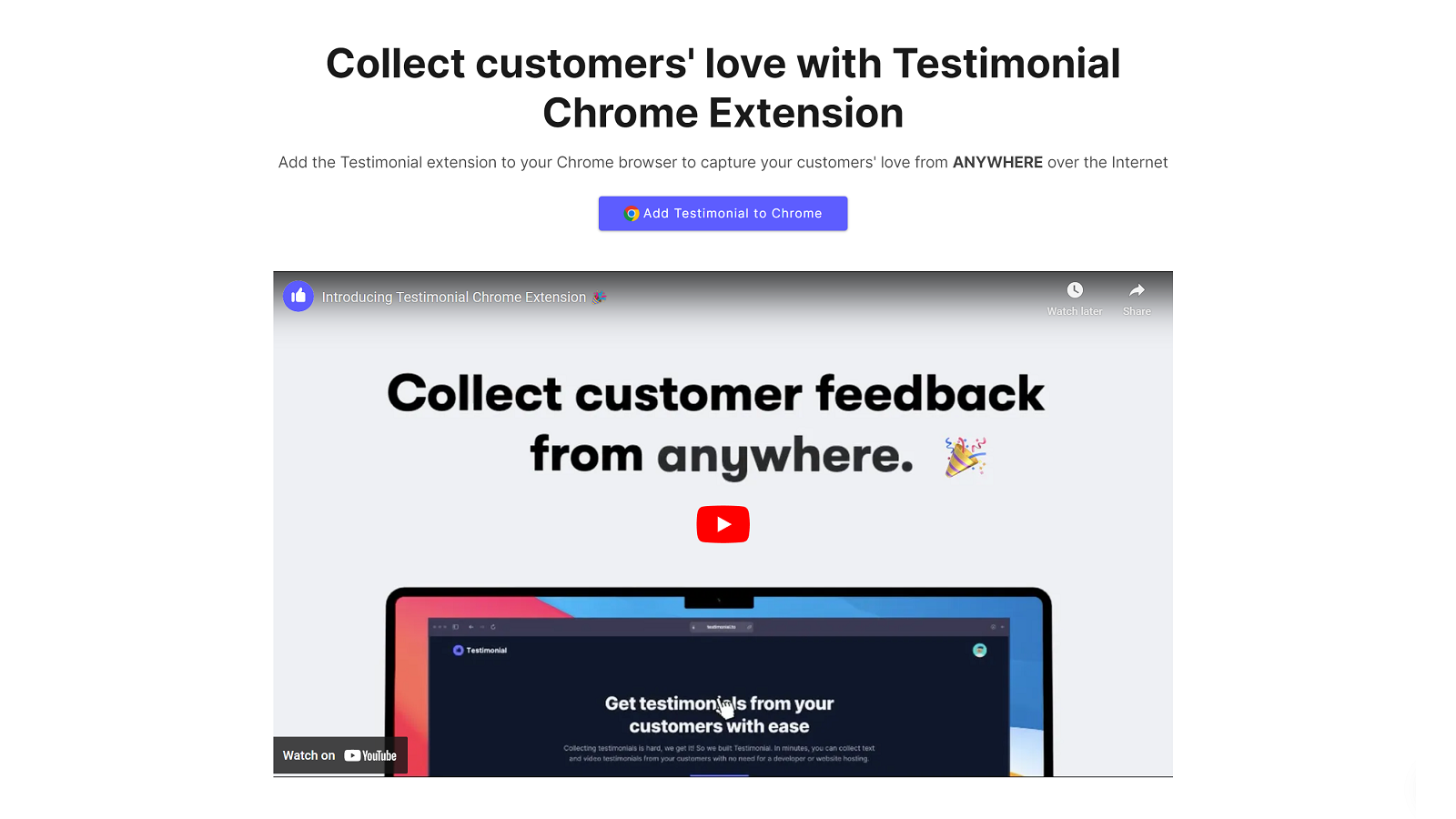 The Chrome extension also serves as a constant reminder of your testimonial collection's status, gently nudging you to keep the customer testimonials flowing. The convenience and ease of use make it a worthy addition to any entrepreneur's toolkit.
Testimonial.to Pricing
You might think that for all the benefits Testimonial.to offers, it must come with a hefty price tag, right? Well, not really. Testimonial.to provides flexible pricing options to accommodate businesses of all sizes. Best of all, they even let you dip your toes in the water first with a 7-day free trial for any paid plans.
If you're just starting out or running a small project, the Starter plan might be all you need. It allows you to collect text-based testimonials and create an embeddable wall of love right on your website. A simple, no-frills solution to start collecting and showcasing your customer testimonials.
Feel free to upgrade to the Starter Plus plan at $20/month if you need to remove their branding from the widgets.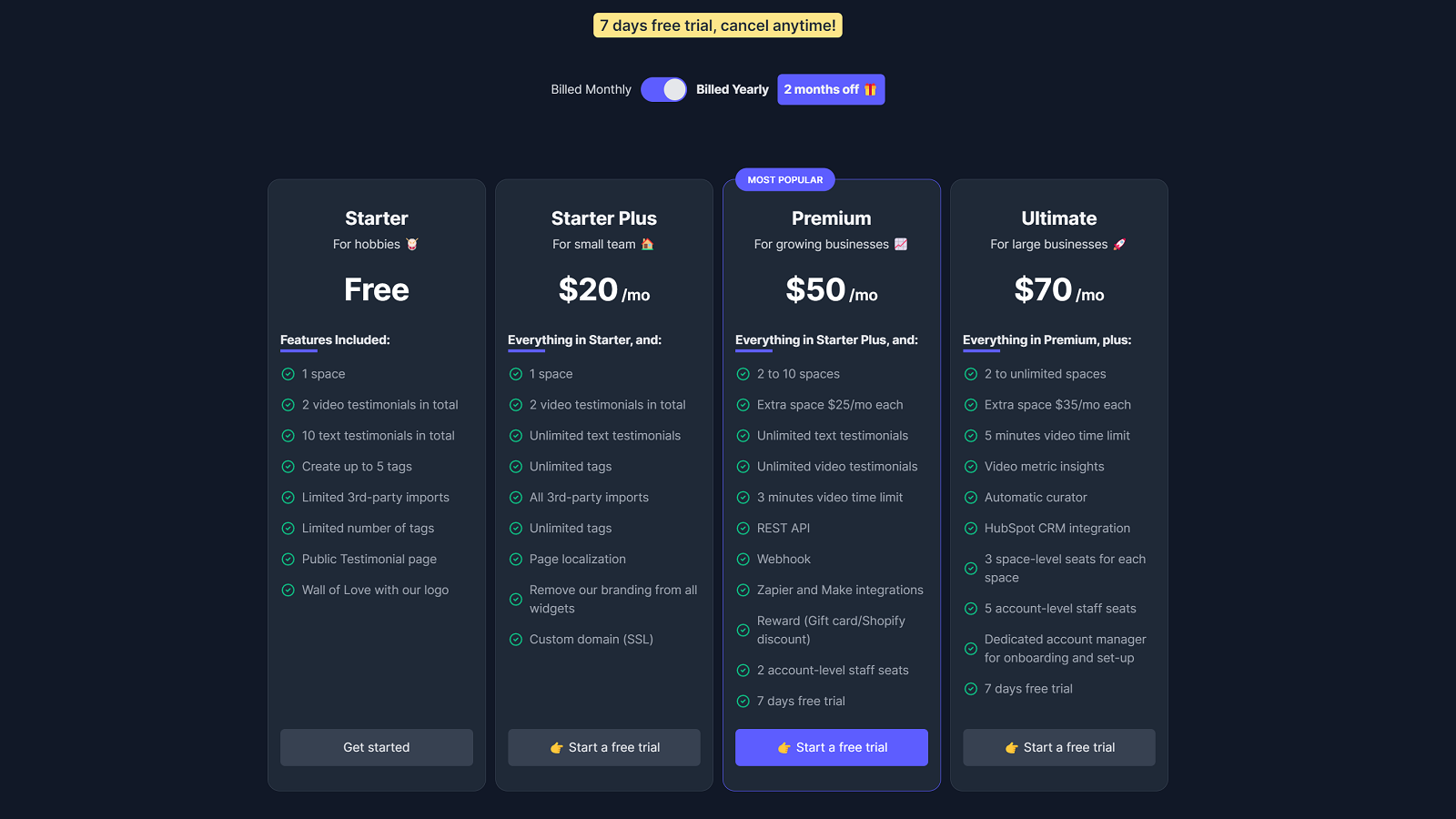 Now, if you want to kick things up a notch, the Premium plan at $50/month is a game-changer. Not only do you get all the benefits of the Free plan, but you can also collect video testimonials, access API, enjoy priority support, and much more. It's designed to help you supercharge your testimonial collection and display.
The Verdict
Testimonials create a sense of trust and authenticity that can't be achieved any other way. On the other hand, Testimonial.to takes the hassle out of collecting reviews by centralizing customer testimonials from various sources, while providing a simplified way of showcasing them, and helps you create powerful social proof for your brand.
Whether you are a tech-savvy marketer who's always on the go, or a small business owner with little coding knowledge, Testimonial.to makes it simple for you to amplify your customer's voices. The robust integrations and handy Chrome extension make it a versatile tool that fits seamlessly into your workflow.
What's holding you back?
Try Testimonial.to for 7 days, free of charge, and see how it can revolutionize the way you handle customer testimonials. You will also get an extra 15% off for the first year whenever you decide to go with any of the paid plans.
Give it a whirl here, and let your customers do the talking.