If you've ever dabbled in Facebook advertising, you'll know that finding the right audience can be a Herculean task. You might have even found yourself asking questions like, "Can Facebook ads target groups?" or "Can I target competitor fans or specific job titles?" The answer to these questions lies in LeadEnforce, a tool that has sparked many conversations across the Facebook marketing landscape.
What is LeadEnforce?
LeadEnforce is an advanced marketing tool that helps you zero in on your ideal audience on Facebook by leveraging a robust algorithm to identify and segment Facebook users who are likely to interact with your ads.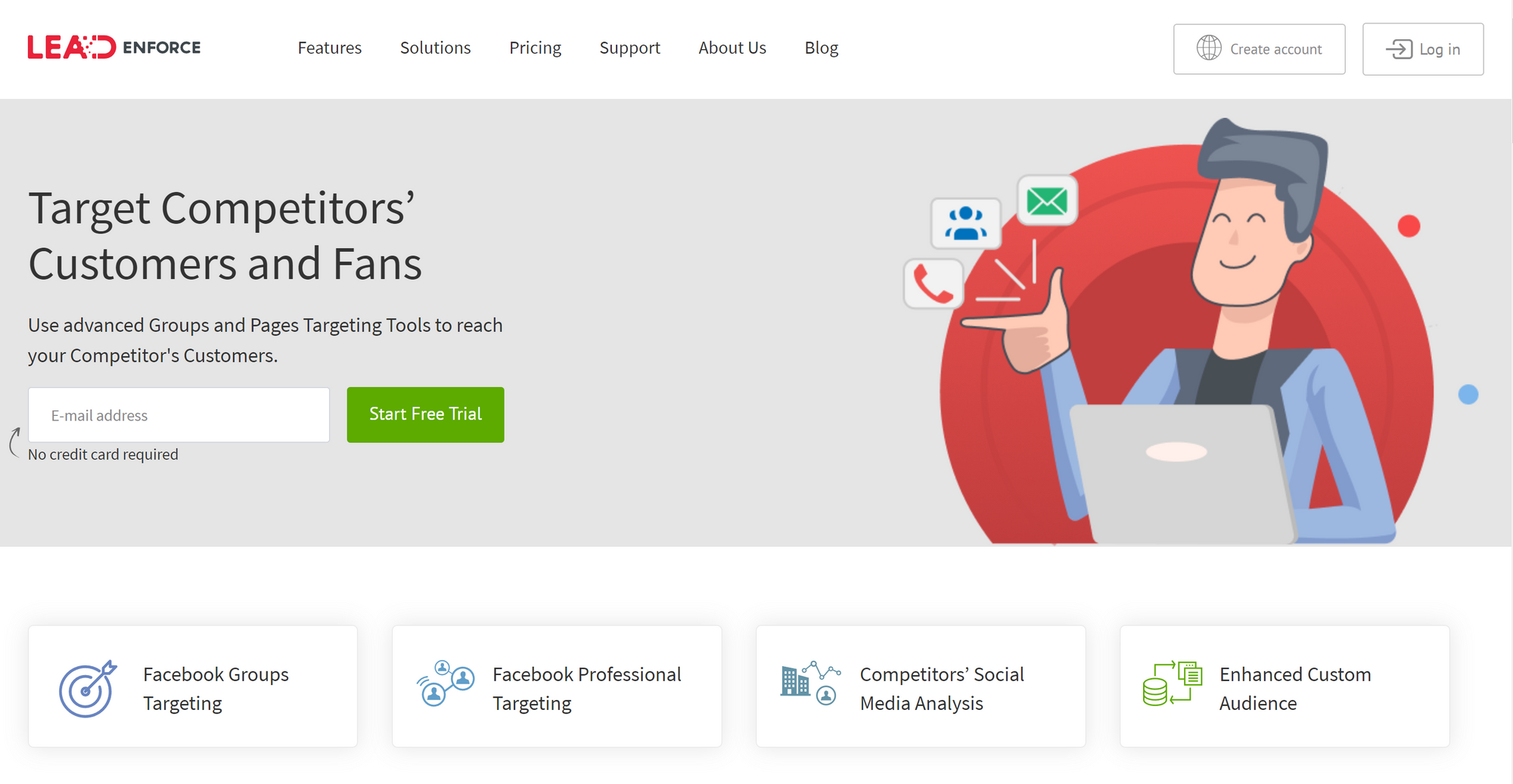 For instance, if you're a boutique owner looking to promote your products, LeadEnforce can help you target business owners in the fashion industry or fans of your competitors. It empowers you with a precision tool to reach out to a highly relevant and focused audience, making your Facebook ad campaigns more effective and efficient.
Navigating the Challenges of Facebook Advertising
Facebook's vast user base is a double-edged sword. On one hand, it gives advertisers access to a wide audience. On the other, it makes it challenging to find the needle in the haystack - your ideal customer.
The Complexity of Targeting
Facebook's advanced targeting options can be overwhelming, especially for beginners. Advertisers have to juggle a multitude of variables, from demographics and interests to behaviors and connections. Knowing how to correctly and effectively navigate these options to reach your desired audience is a significant challenge.
Broad Audiences vs. Specific Audiences
Striking the right balance between reaching a broad audience and a specific niche is another common hurdle. If you target too broadly, you risk wasting your ad spend on people who are unlikely to be interested in your product or service. However, narrowing your audience too much might mean missing out on potential customers who don't precisely fit your target criteria.
User Privacy Concerns
Following data privacy scandals and the implementation of GDPR, Facebook has had to modify how it handles user data. For advertisers, this has resulted in some limitations in ad targeting. For instance, the ability to target users based on specific job titles or to target business owners has become more complex.
This is where LeadEnforce comes in.
By tackling these issues, the platform aims to streamline the advertising process, making it easier for advertisers to reach their ideal audience and get the most out of their ad spend. It's not a magic bullet that will solve all Facebook advertising issues, but it can certainly help you navigate this tricky landscape more effectively.
How LeadEnforce Can Help
Now, let's delve deeper into LeadEnforce's key features and how they can supercharge your Facebook ad campaigns.
1. Targeting Competitors' Fans
In any industry, a substantial part of your potential customer base is likely already engaged with your competitors. These people have demonstrated interest in products or services similar to yours, making them highly valuable prospects. However, reaching these individuals via Facebook ads isn't straightforward.
This is where LeadEnforce's ability to target competitors' fans comes in. This feature allows you to identify Facebook users who follow your competitors and target your ads specifically toward them. You can even narrow down your targeting based on various parameters, such as demographics and geographical location.
For example, you've launched a new Yoga app and looking for paid users to install your app. Instead of blindly targeting all yoga enthusiasts, you can use LeadEnforce to specifically target people who follow other yoga app profiles on Instagram. This way, you know your ads are being served to people who are likely to be interested in your product, thereby increasing the chances of conversion.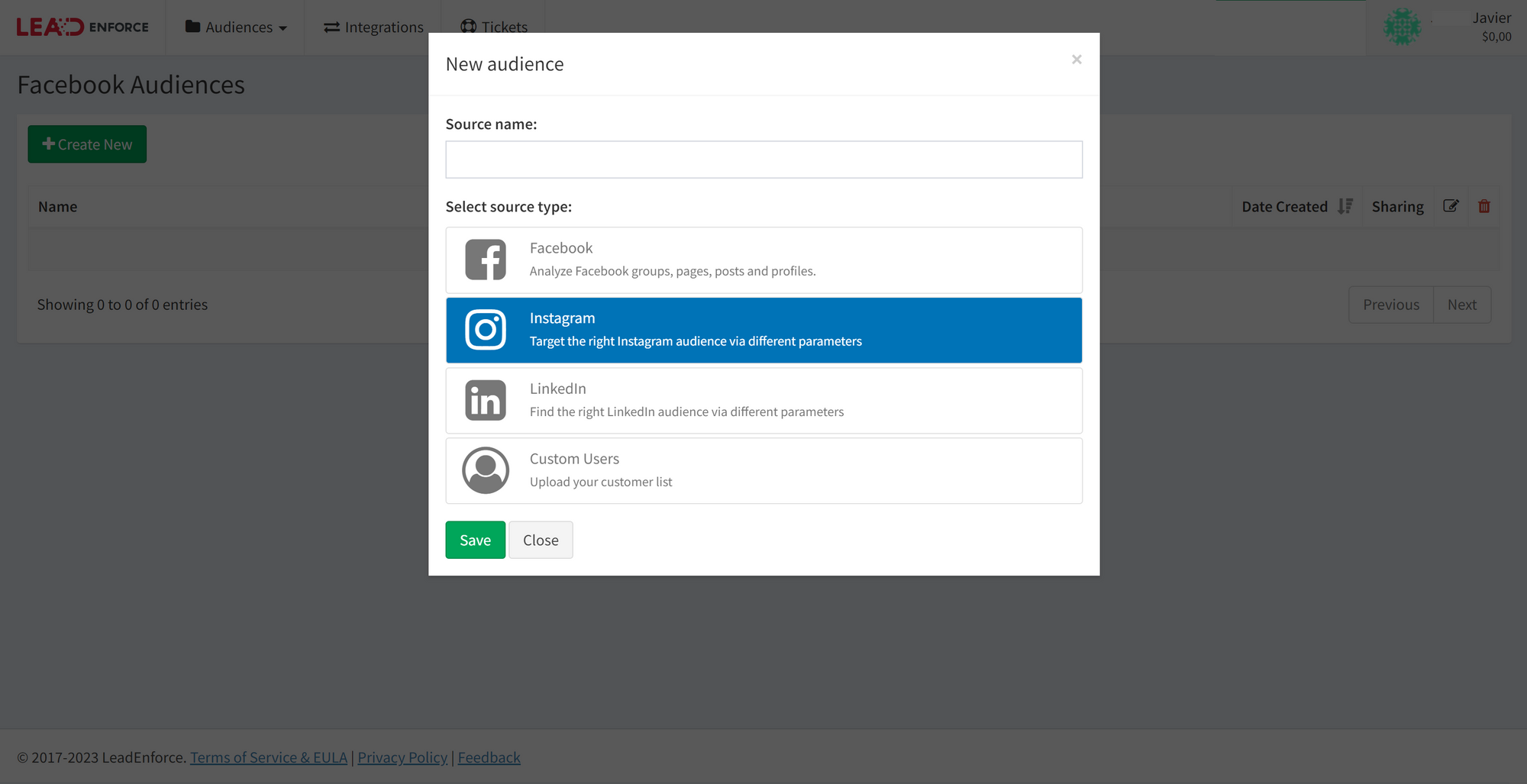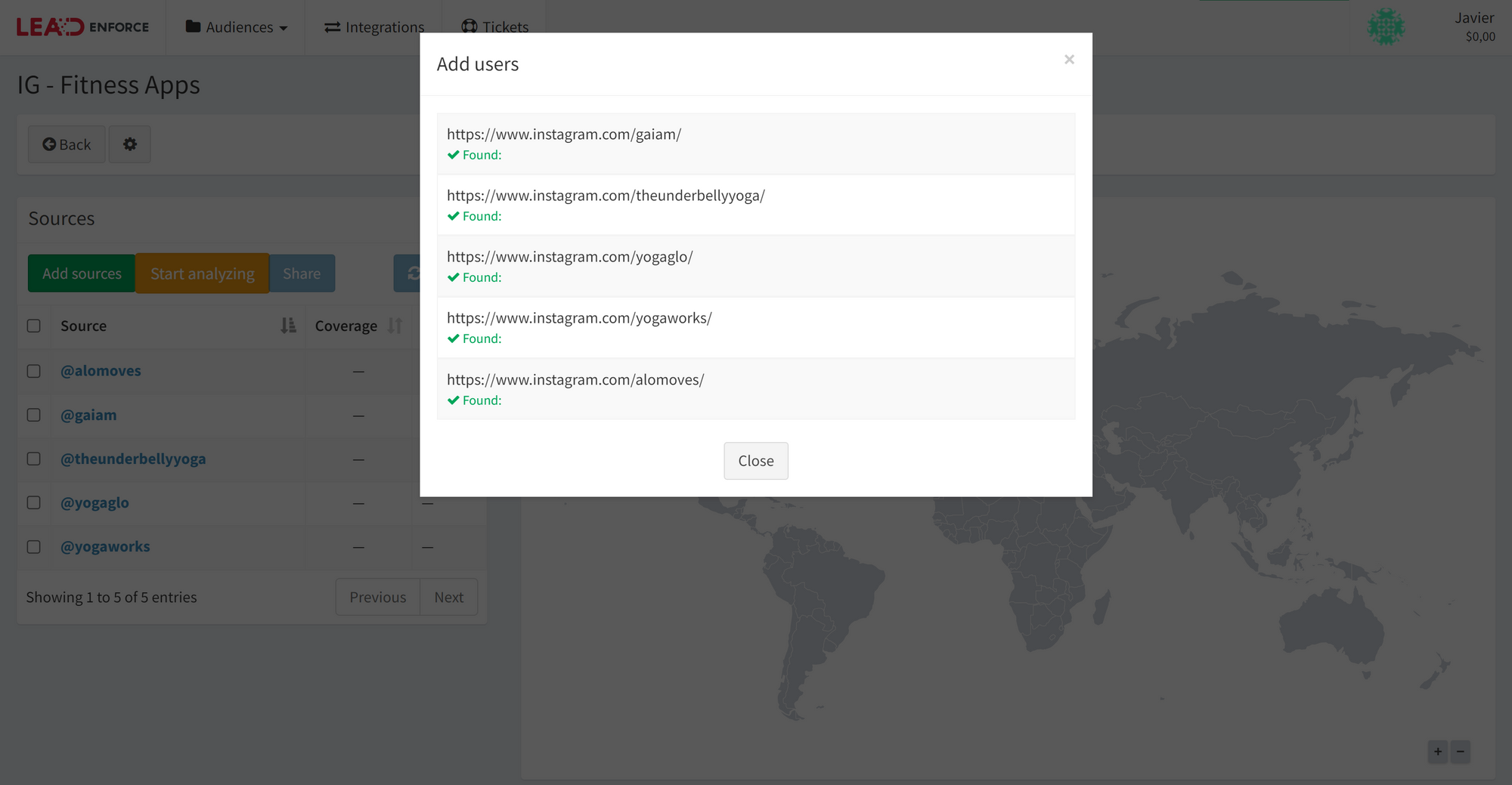 *Note that the profiles I have selected are paid apps offering 7-14 days free trials. This helps to narrow down your audience to paid users.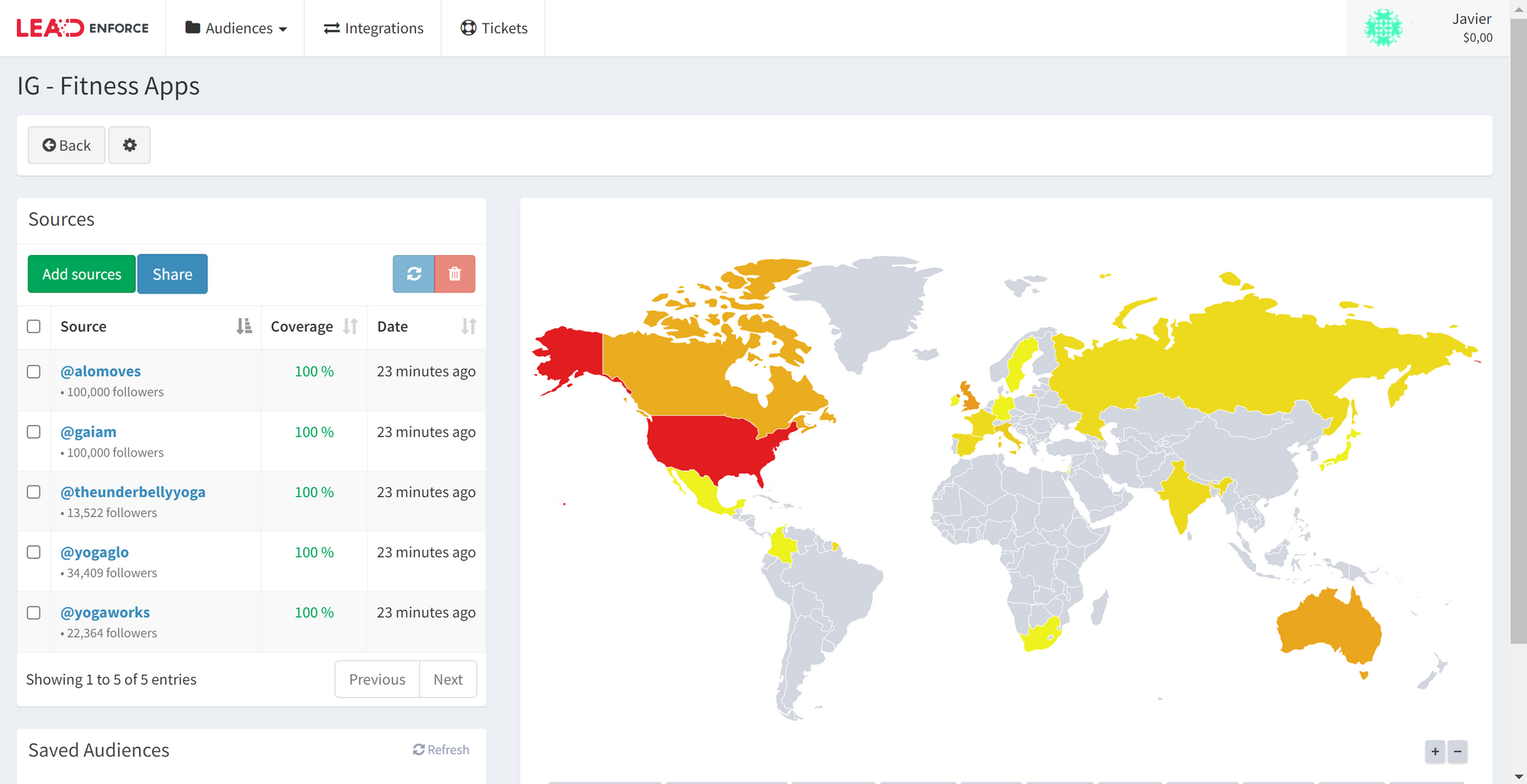 Group Member Targeting
Facebook groups are communities where users with shared interests connect. These groups can be goldmines for advertisers because they're often made up of highly engaged users who are passionate about a specific topic. But Facebook doesn't allow you to directly target the members of specific groups with your ads.
This is another area where LeadEnforce can help. Its group member targeting feature allows you to reach out to people who are part of specific Facebook groups. By doing so, you can ensure your ads are shown to individuals who have already demonstrated interest in your niche.
For example, a SaaS company struggles to hire freelance talent using Facebook Ads. With LeadEnforce, they can target their ads to members of Facebook groups dedicated to digital nomads or remote workers. This precision targeting ensures their ads reach lifestyle-driven individuals who are more likely to be interested in applying for freelance jobs.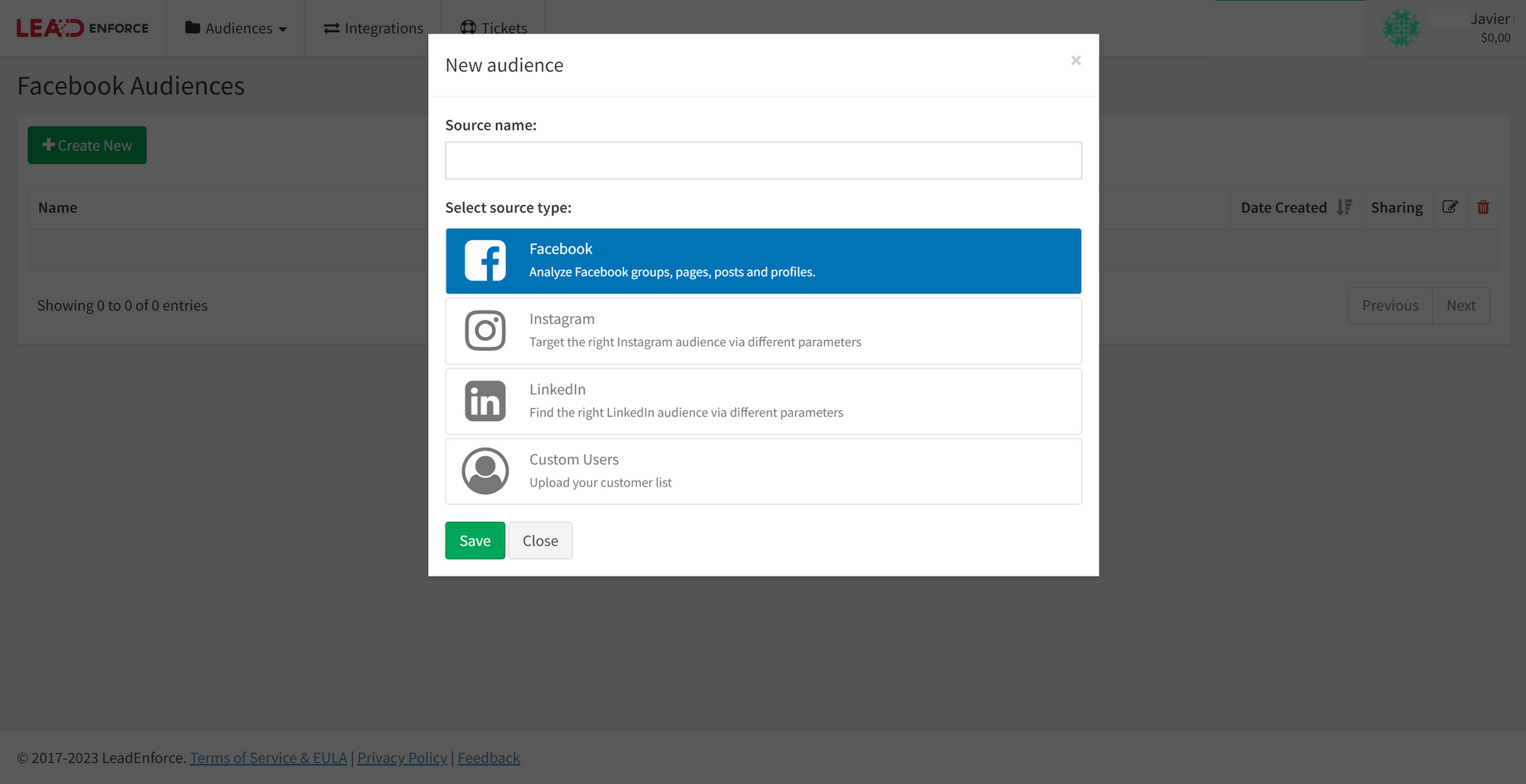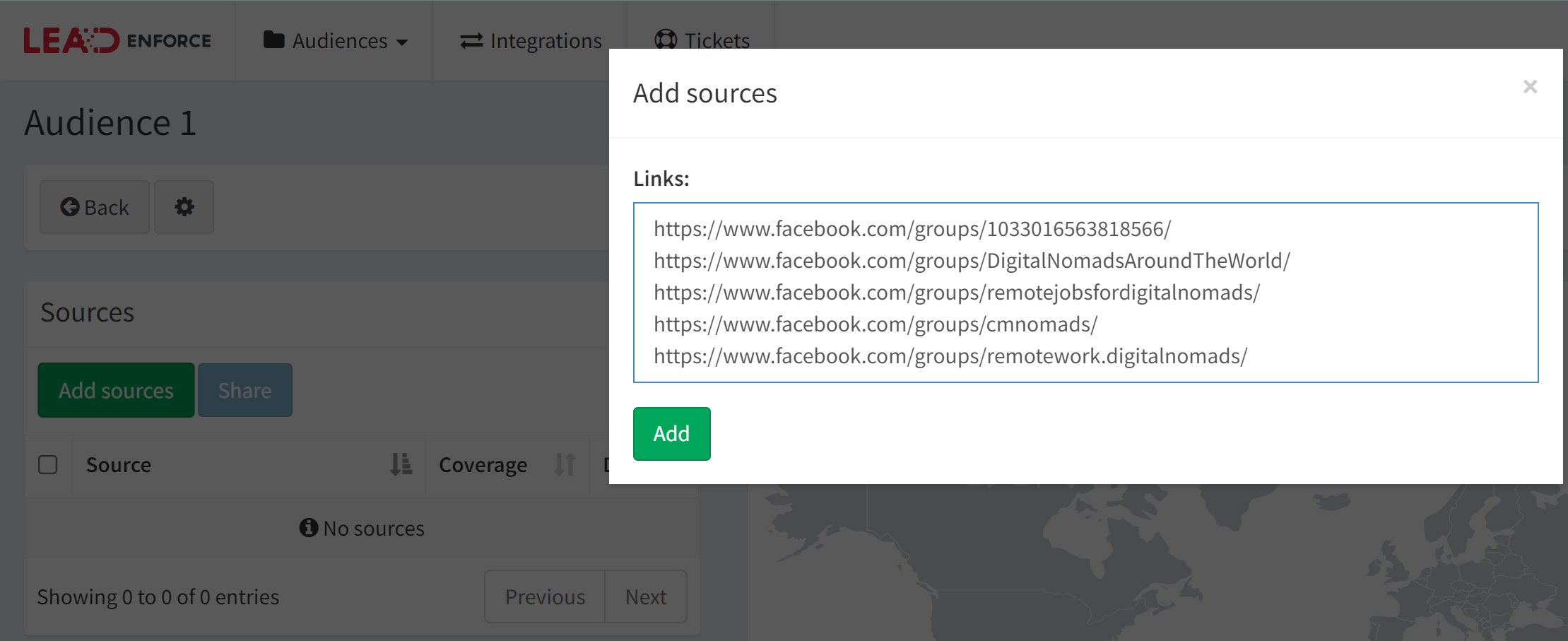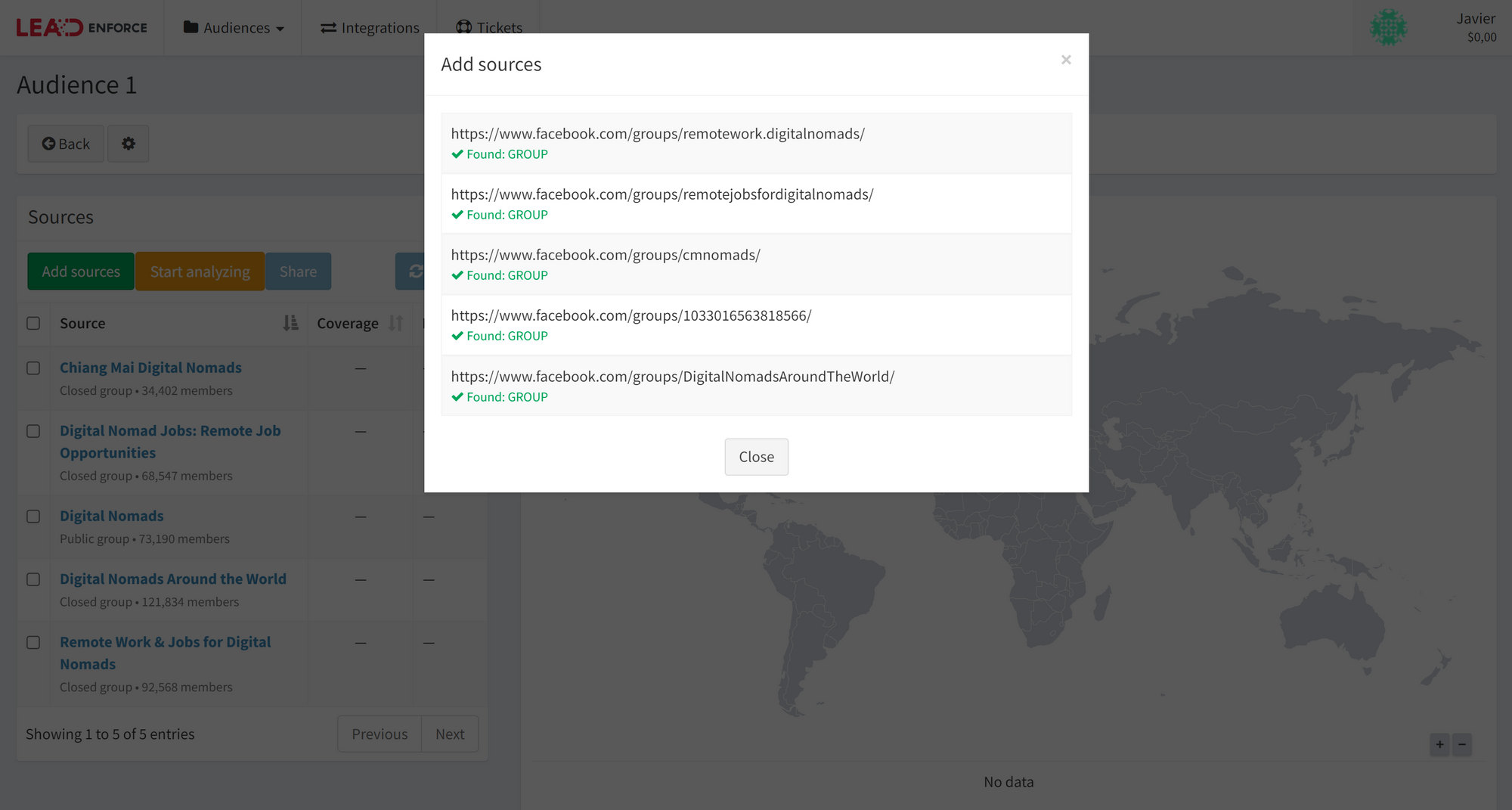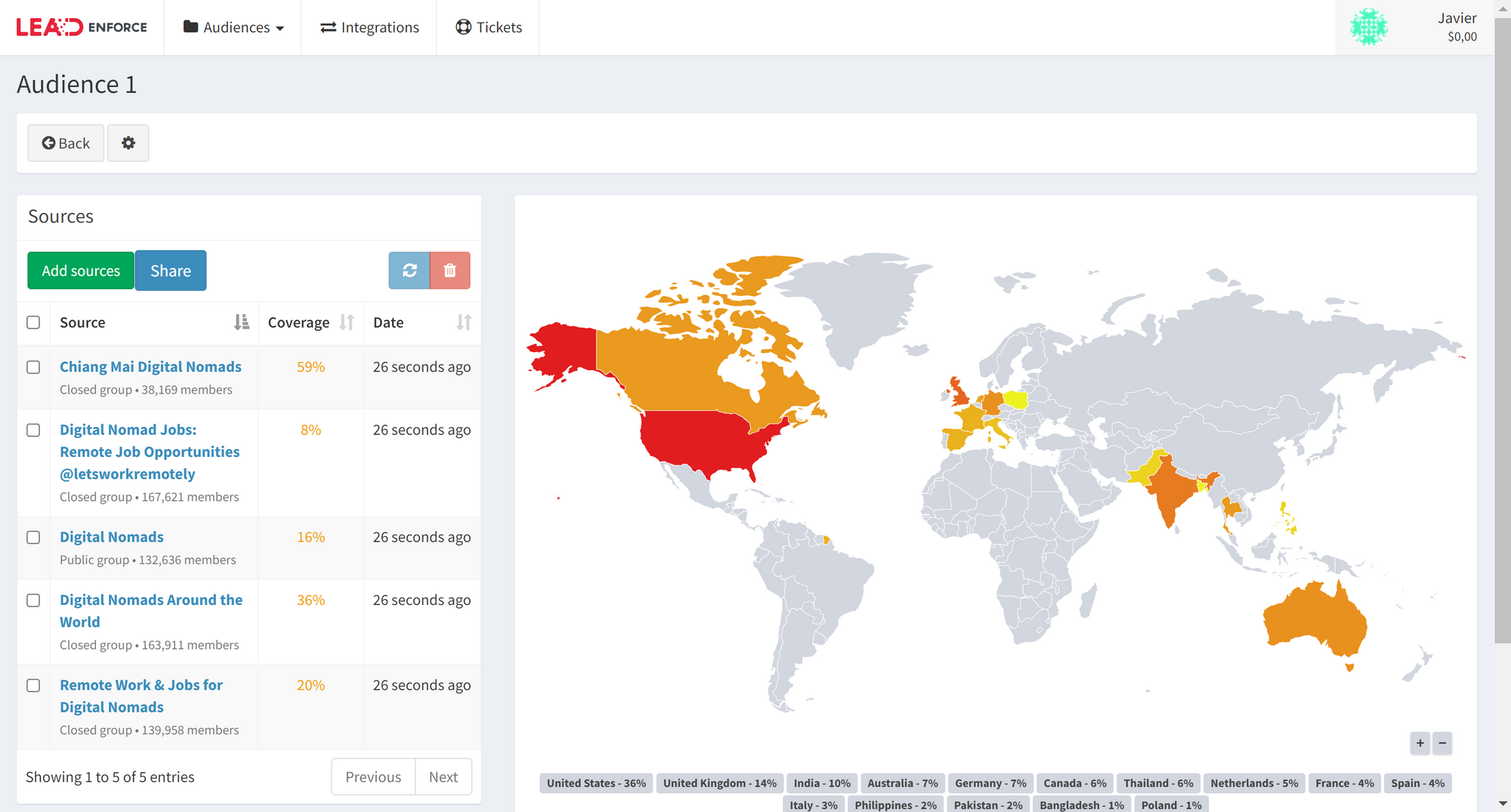 Job Title Targeting
Facebook provides options to target users based on their job titles. However, this often doesn't provide the level of precision that many advertisers require. For example, you may want to reach not just "marketers," but "digital marketing managers in the advertising industry."
LeadEnforce steps in to fill this gap with its job title targeting feature. This feature leverages the platform's advanced algorithm to identify users based on their specific job titles and the industry they work in.
For instance, if you offer web analytics software, you can use the LinkedIn audience feature to target media buyers or digital marketing managers in Marketing & Advertising industry specifically. This ensures that your ads are shown to people who are most likely to benefit from your product, thereby maximizing your ad spend efficiency.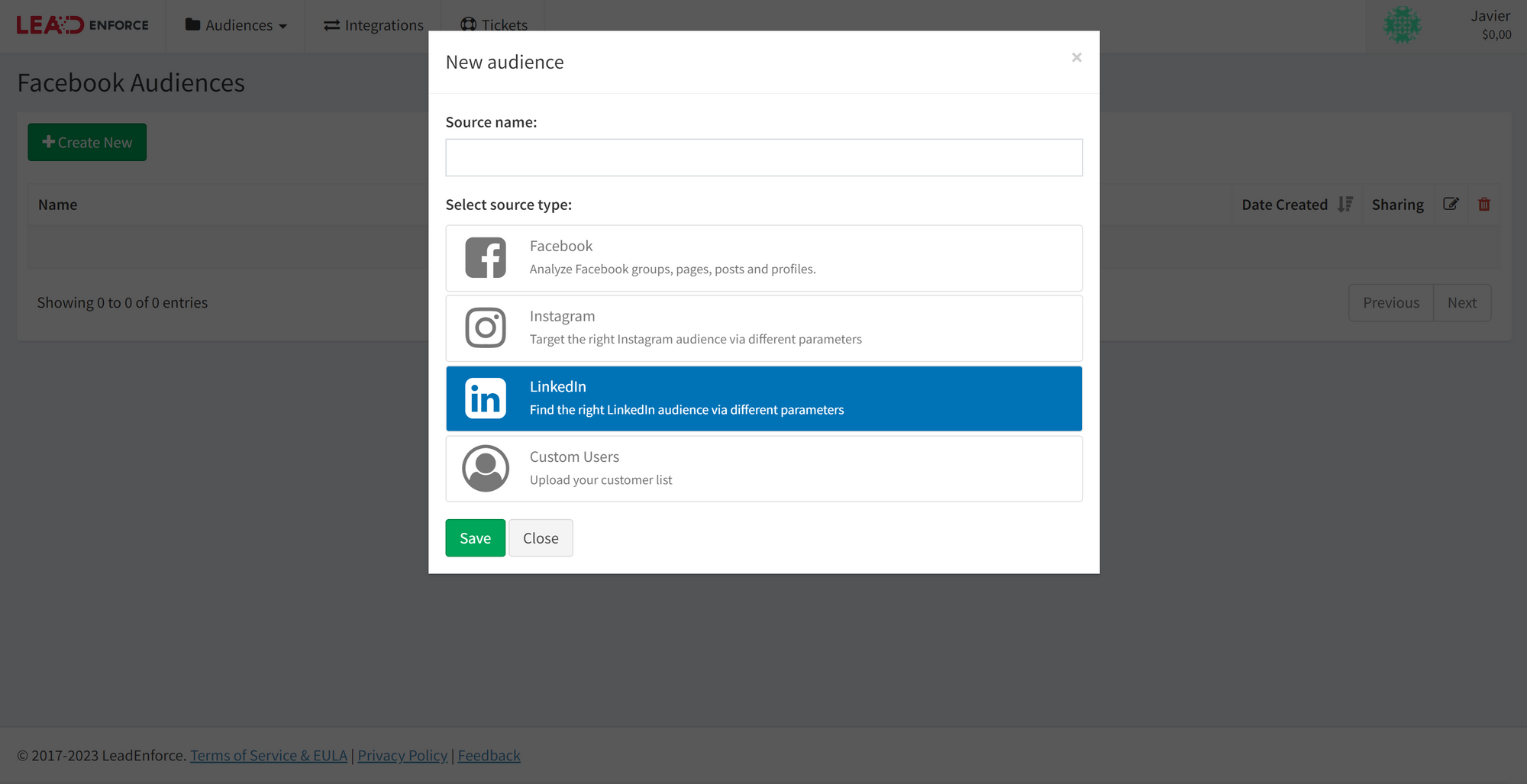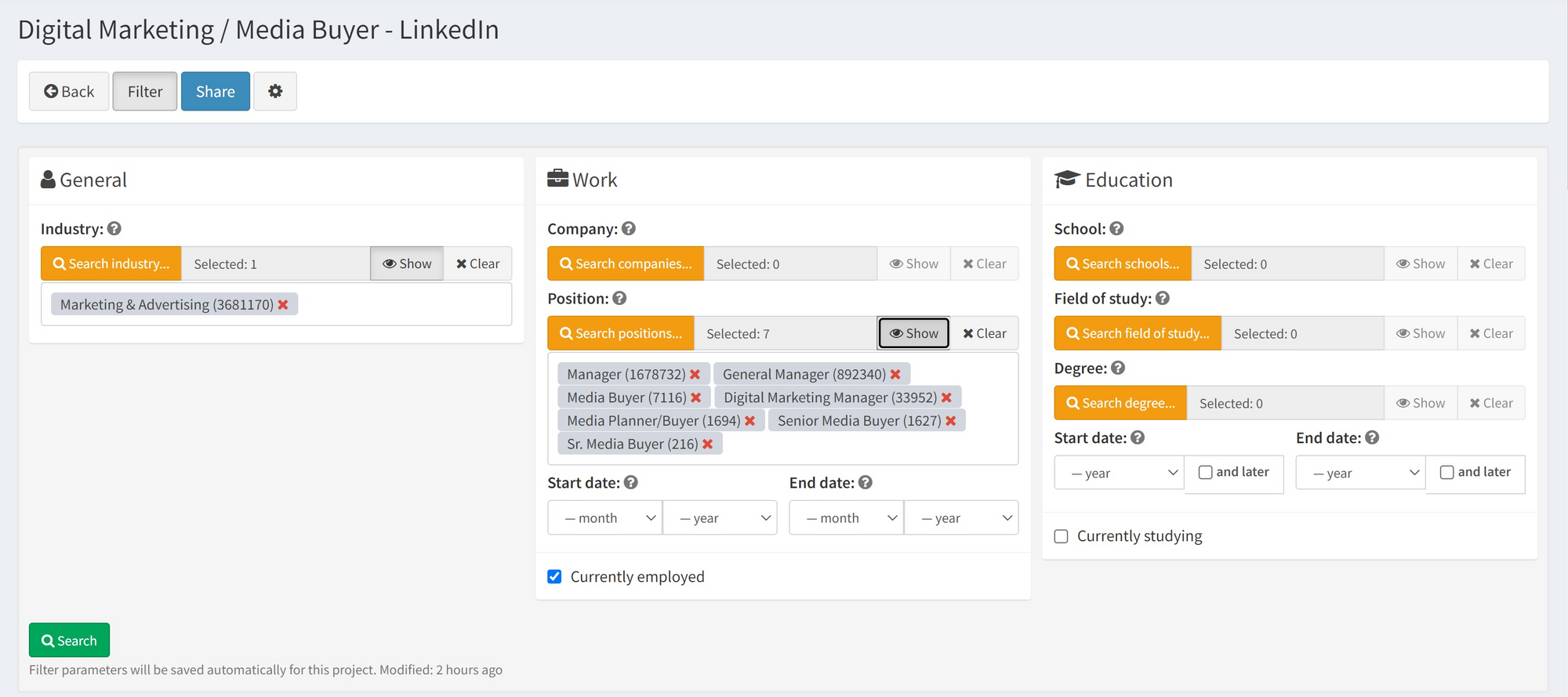 *If you have companies to target in mind, feel free to input the names of the companies too. Since we're creating an audience based on LinkedIn, you should only go for company names available as targeting on the LinkedIn ad platform.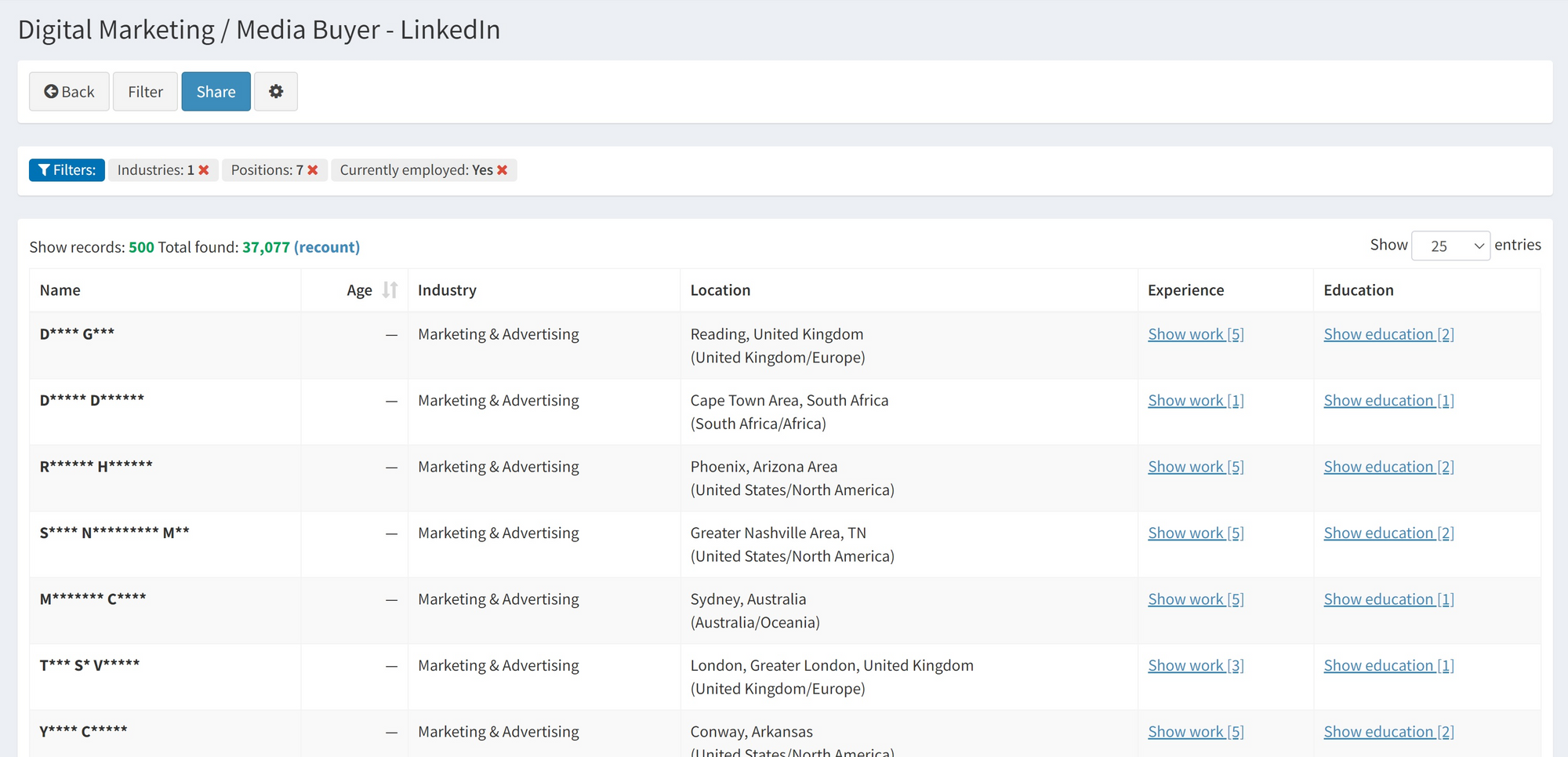 Upload LeadEnforce Audience To Facebook Ad Account
Before you can use the audience you created, you need to integrate your Facebook ad account with LeadEnforce. You can do this by selecting "Integrations" on the top bar, and then click on "Add Facebook Ad Accounts".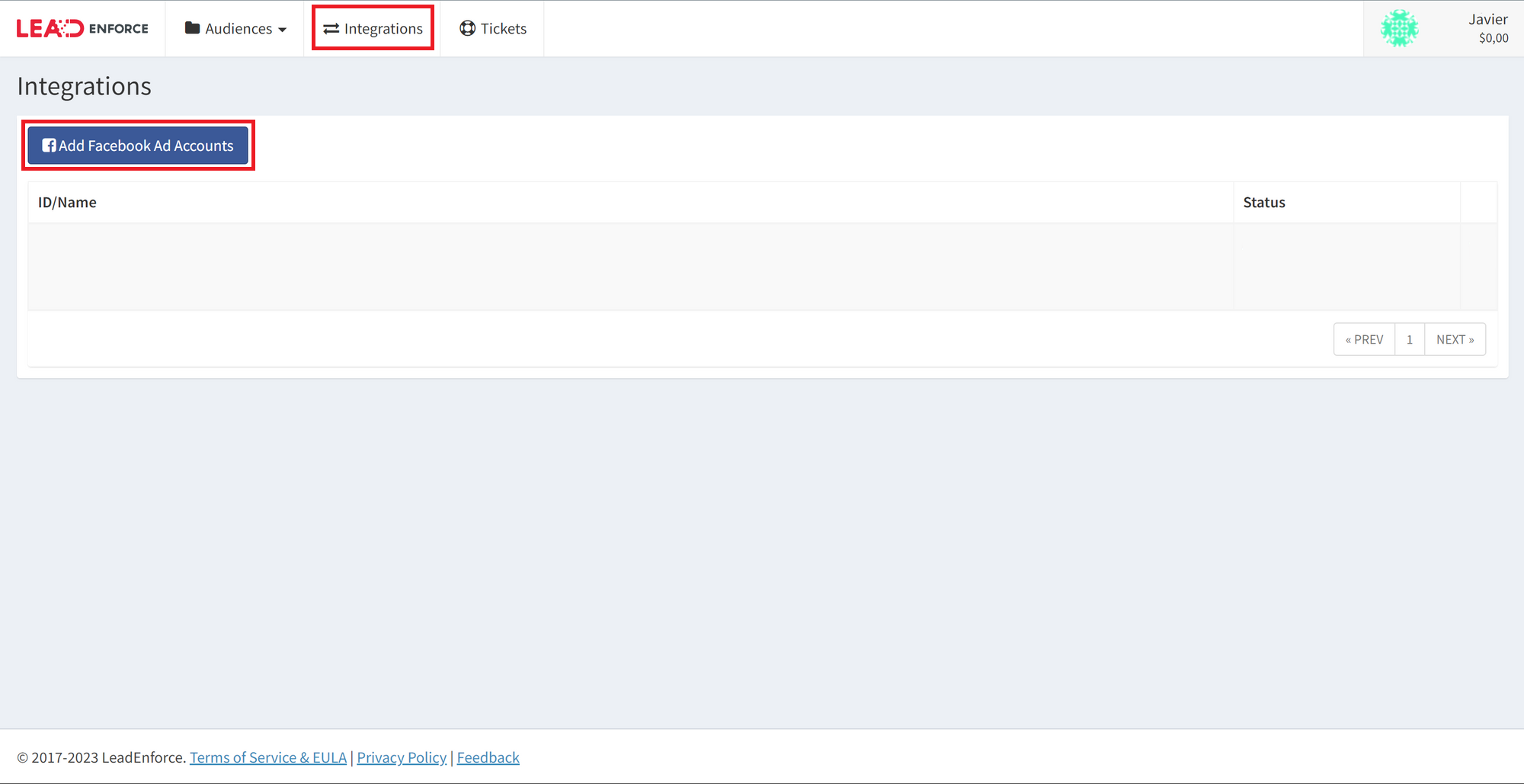 Next, you'll be prompted by "Codedigger" a.k.a. LeadEnforce's Business Manager to access your ad accounts. Select the assets that you wish to share, however, you must choose an ad account and your Facebook page to complete the integration.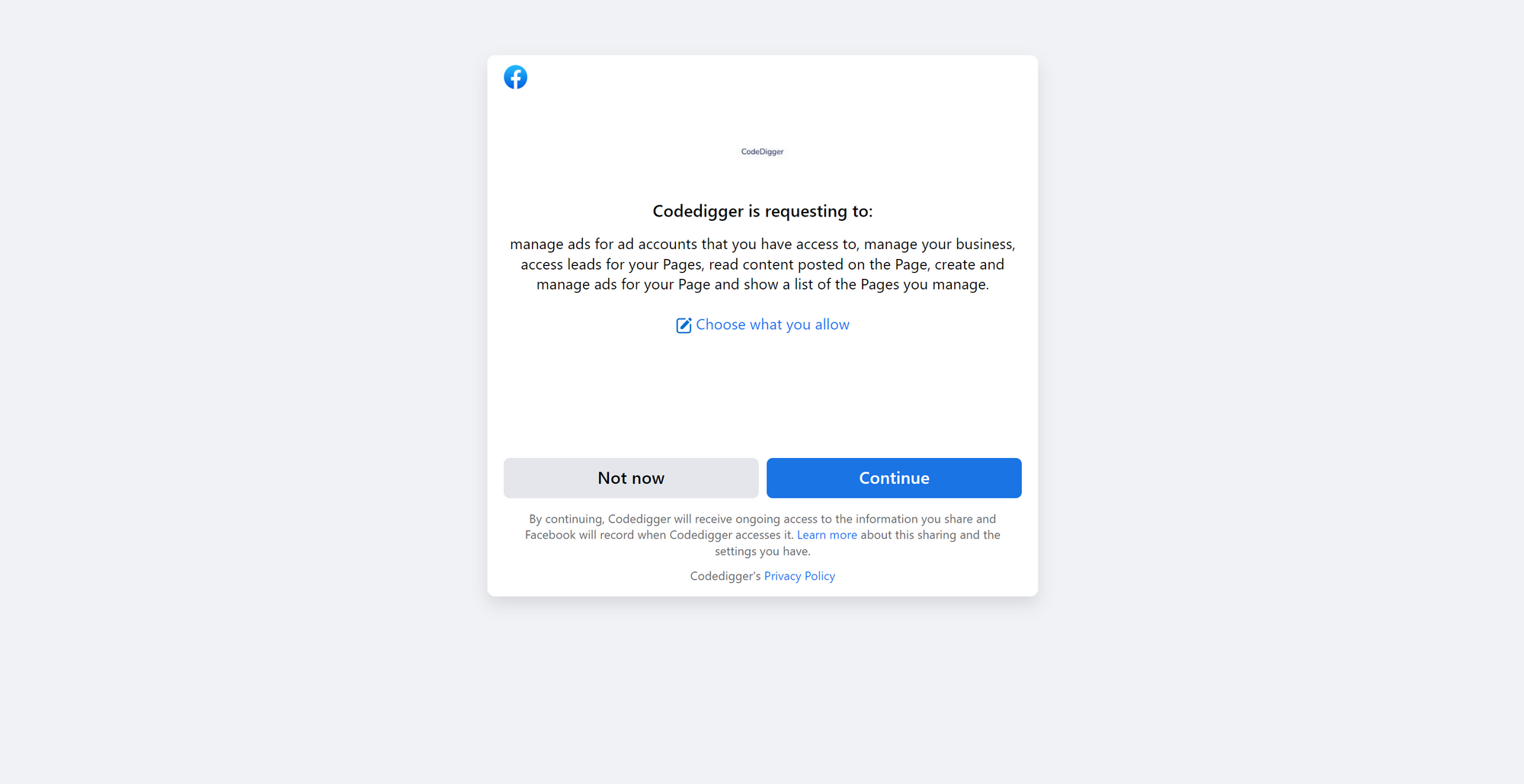 Next you will see all your ad accounts appear back in your LeadEnforce dashboard. Pick the ad account you wish to share your audience to.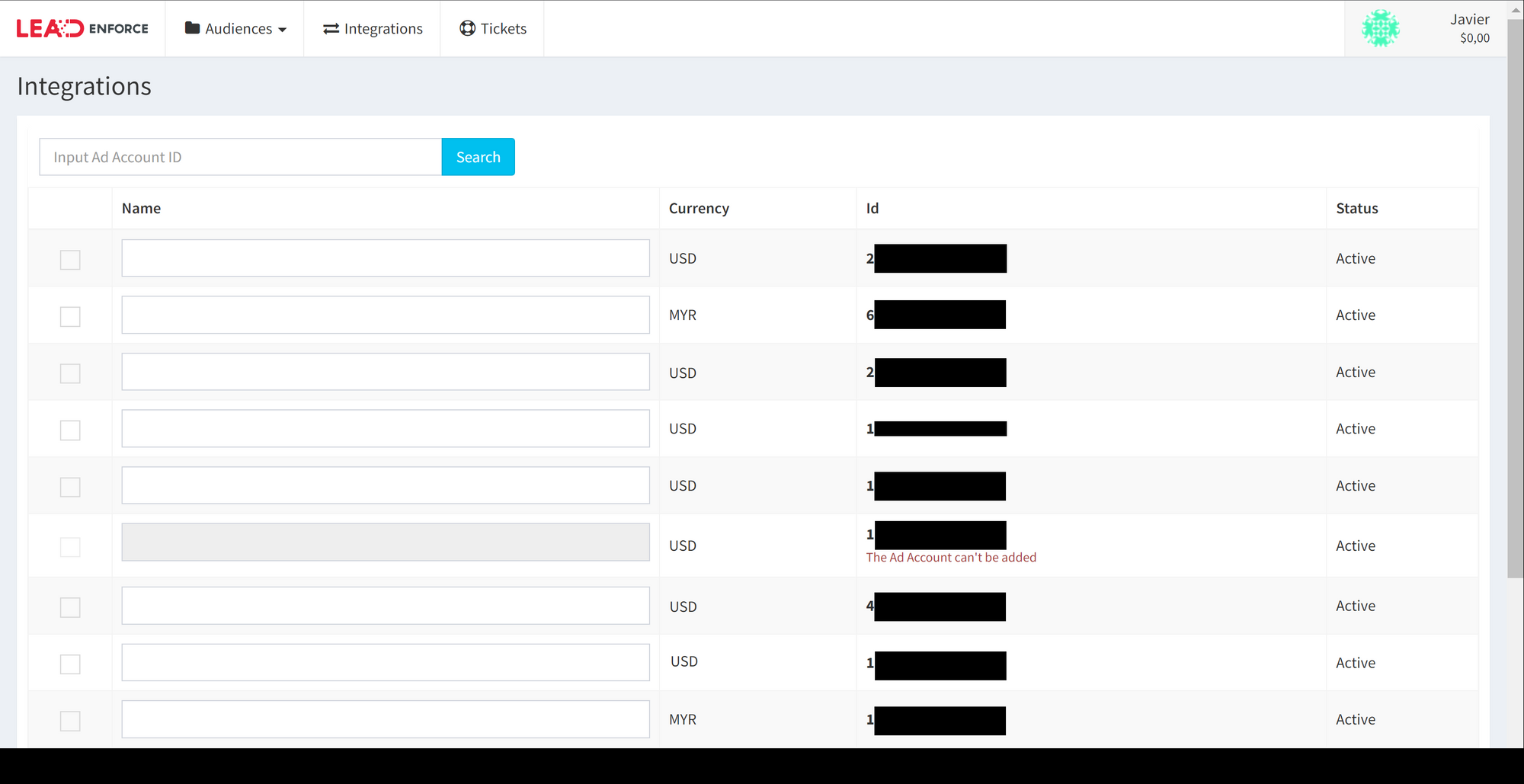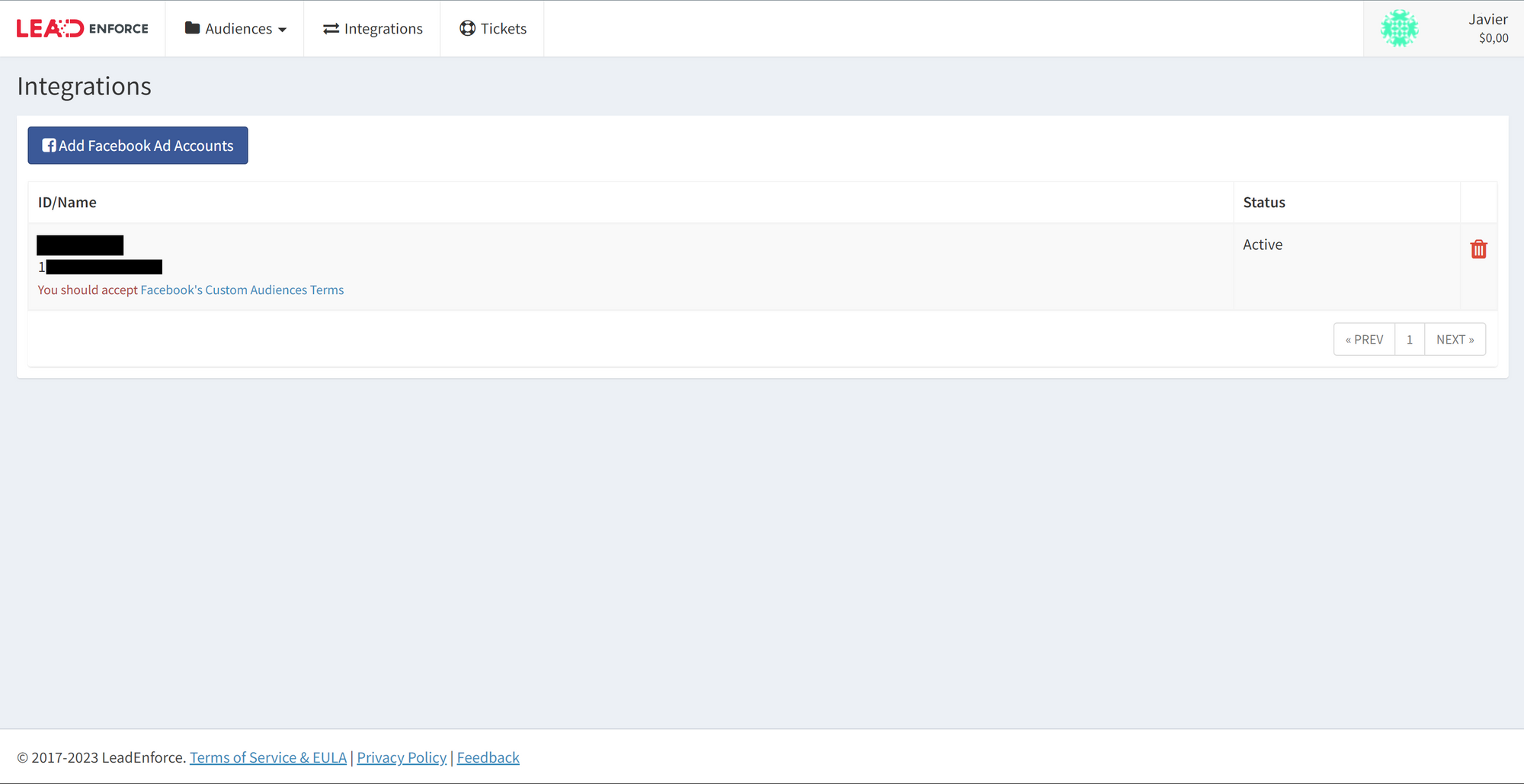 Once it's done, head back to your "Source", select your audience, click the blue color "Share" button, and click "Save".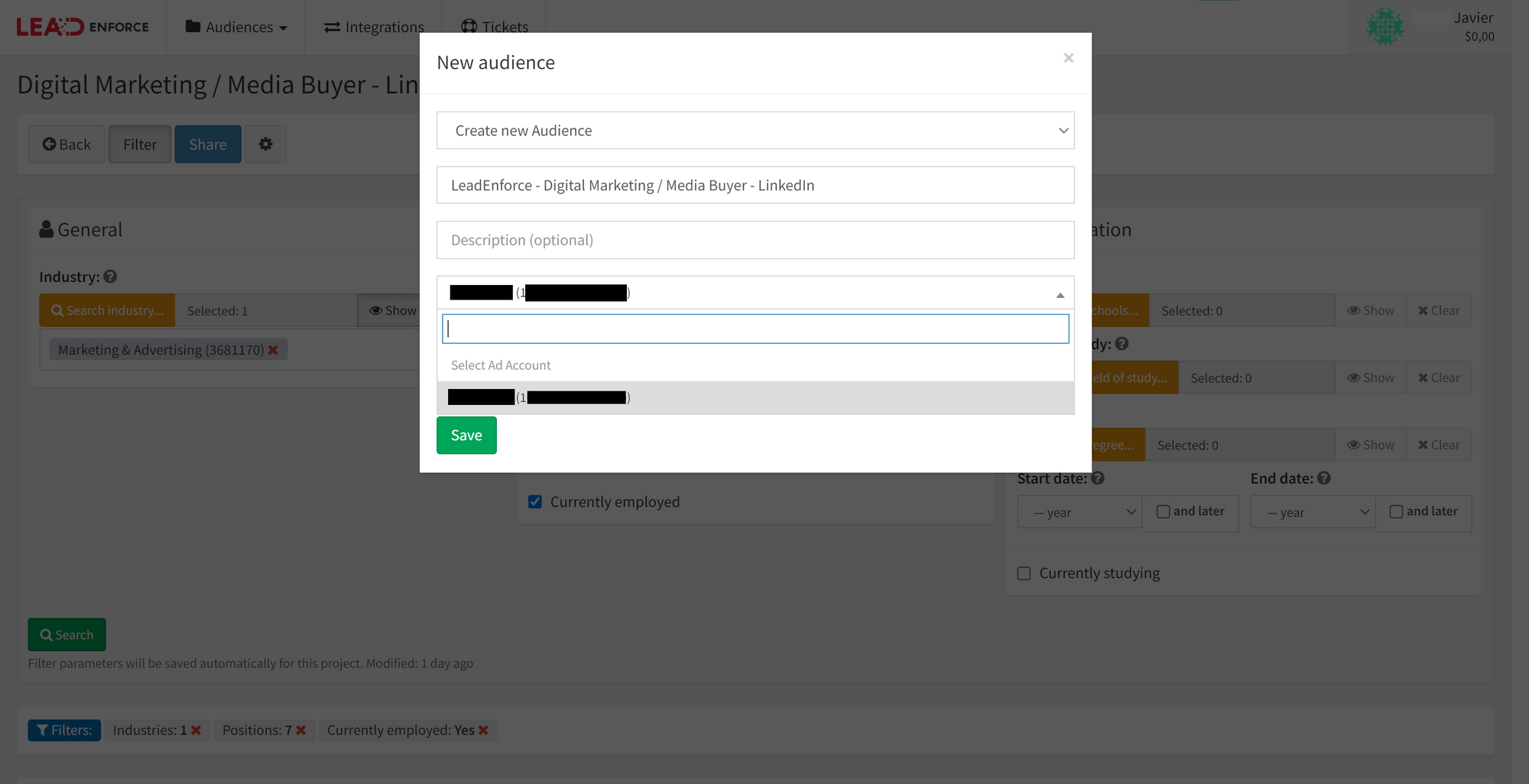 If you have not created any Custom Audience in the selected ad account previously, you'll be prompted by a popup. If you have trouble finding the location to accept the terms, just copy the link provided in the popup box, and it will send you directly to the Terms page.

Wait for 5-10 minutes for the platform to complete the audience import process. And tadaa! Now your audience is ready to be used as a Facebook targeting option.

Is your audience size too narrow? Not a problem. Just create Lookalike Audience using this hyper-targeted audience to expand your reach!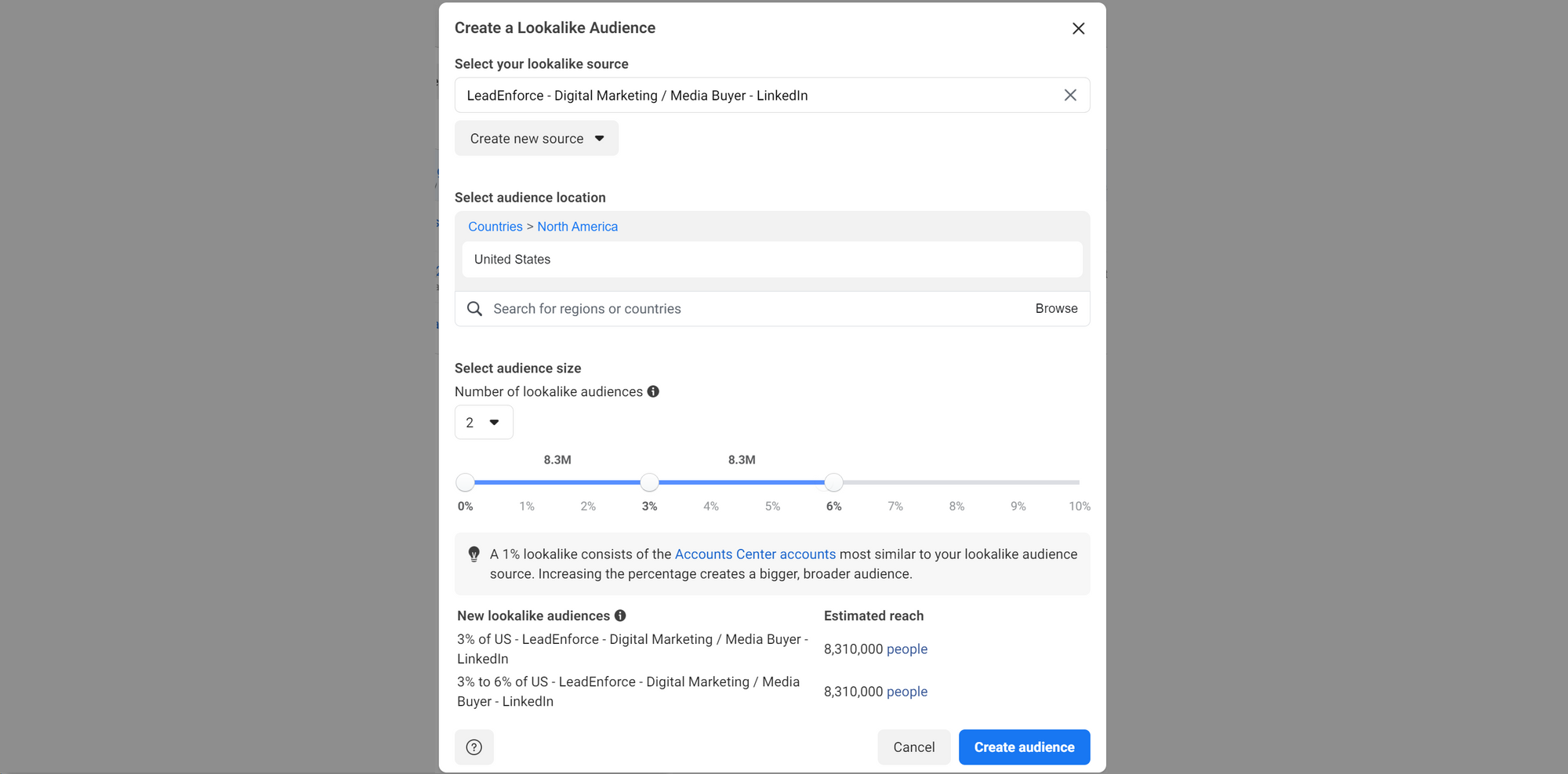 The Verdict on LeadEnforce
Facebook advertising doesn't have to feel like you're tossing messages into a vast ocean, hoping they'll reach the right shores. Tools like LeadEnforce can help streamline your advertising process, allowing you to target the right audience with the right message.
Pricing
When it comes to LeadEnforce pricing, it offers different packages to cater to various business needs. It's a scalable solution, whether you're a startup or an established enterprise.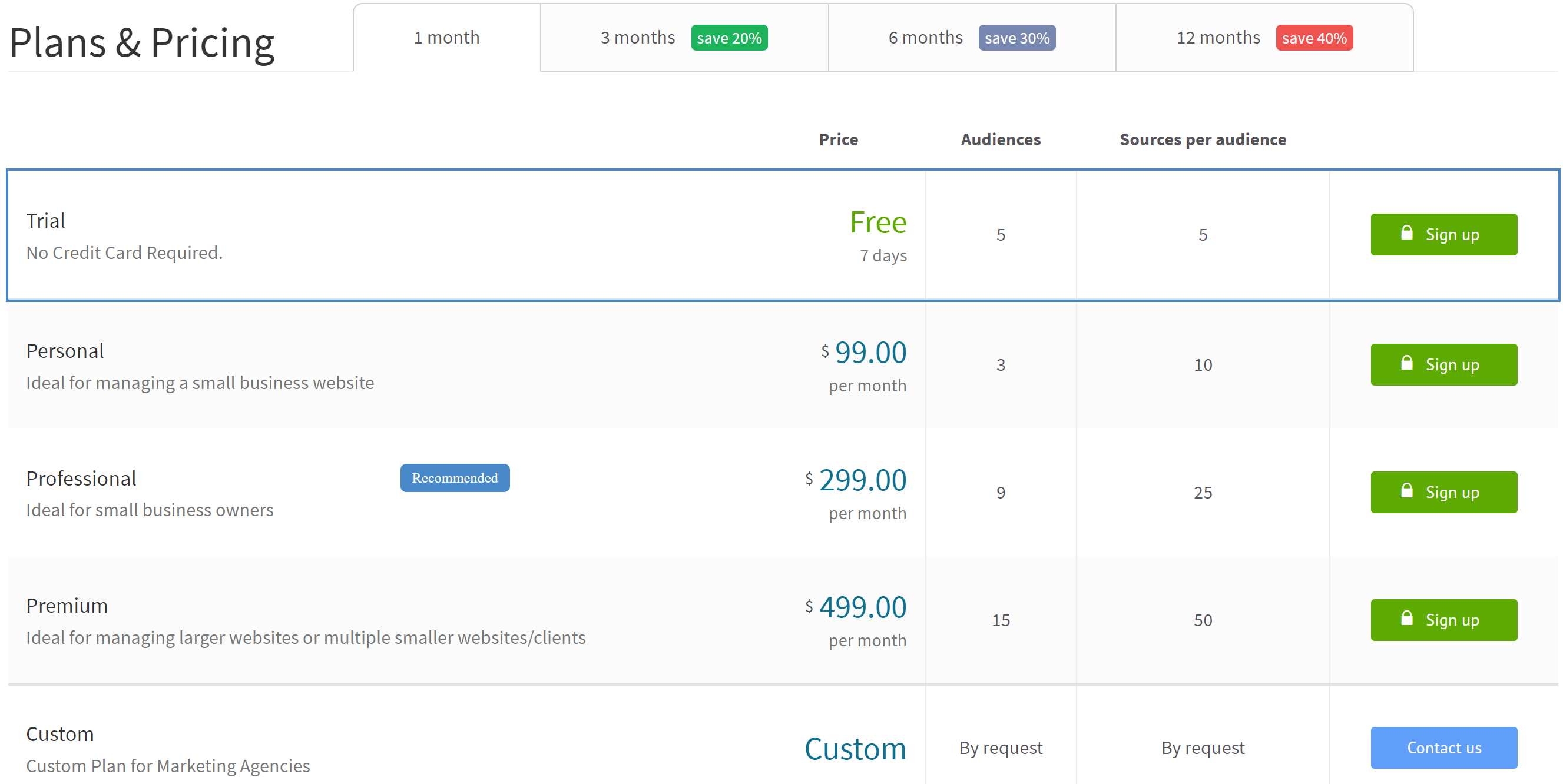 Remember to take advantage of their 7-day Free Trial to split test between the LeadEnforce audience and your own audience to find the winning combination. Within these 7 days, you can create, delete and re-create as many times as you can before deciding to opt for either of the Paid plans.
In conclusion, if you're seeking a solution to optimize your Facebook ad campaigns and significantly increase your reach to a relevant audience, go ahead and try LeadEnforce yourself. Its powerful features and proven success stories make it a compelling tool in the realm of Facebook advertising.
Never take my word for it, do visit LeadEnforce's official website and see how it can propel your Facebook advertising efforts to new heights.